Tom Yum, frangipane and seafood chowder
What's featuring in my memory this week?
Tom Yum sweet and sour soup from Thai Chef, Canteen's shellfish bouillabaisse and pear and frangipane tart, and Rach's seafood chowder at the City Market.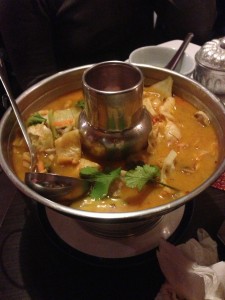 Over a group catchup, we decided the Tom Yum sweet and sour soup at Thai Chef was ideal for a sore throat (and pretty), and the various entrees were unique and fun (Pumpkin Patch with plum sauce, Sleepy Pig in Bed and Larb Balls).
A couple of the mains were a touch underwhelming, but there are good reasons to still have Thai Chef on your list – the sense of fun (the Alcoholic's noodles anyone?), buzzy environment (they seem pretty consistently busy) and value for money (esp entrées).
Canteen I've talked about before, but their shellfish bouillabaisse amuse bouche (uh oh, tongue torment!) was really delicious and pleasingly presented in teacups.  Including fennel, chili, aioli and a few other secret ingredients (including a Mack and Mabel sauce I'd guess), if you get the chance to try this I don't think you'd be disappointed.
And the pear and frangipane tart.  OMG.  Died.  Heaven.  Light, slightly crumbly, and beautifully balanced in both texture and flavour. Mac has a baking background, and it shows.  I think this has just gone onto my last-meal-on-earth list (yep, its gonna be one hell of a final eat!).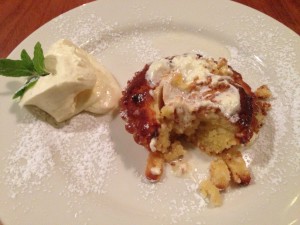 And lastly, Rach's seafood chowder at the City Market (Rachel Taulelei of Yellow Brick Road) just has to be mentioned.  With a cult following, and the conversion of a few vegetarians under its belt, this chowder is simply one of the best. The recipe is a family one, with Rach including whatever seafood is freshly caught this week, along with bacon, potato and various other secret ingredients.
Although the market runs until 1230 on Sundays, I'd suggest you get there much earlier to guarantee a sup at the pan of this georgousness (and yes you can take a jar down weekly to fill for your weekday pleasure as well as inhaling a cup at the market).
Ciao.