Birthdays, beer and burgers
I hope you all had wonderful long weekends (or at least parts of it if having to work).
So many memorable eats and drinks this week, I'll try and be succinct. But what a wonderful reminder of the diversity and opportunities in Wellington City.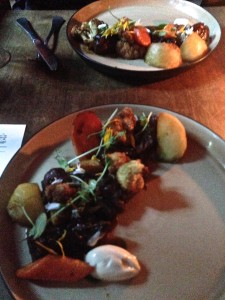 Matterhorn are having their 50th birthday celebrations over the next month, culminating with a (probably closed) VIP party on 30 November.  No mean feat in today's fickle hospo world to survive that long (albeit in slightly different guises), and I recollect a comment by a recent owner that there comes quite some responsibility when buying into something with such a long history.  I bet. Check out their birthday cocktails, and if you've never done their Sunday roast, be in. This Sunday just gone: roasted merino lamb neck (fall-apart, melt-in-your-mouth delish) with wagyu fat potatoes, crispy spice cauliflower, honey glazed carrots and whipped coconut cream.  A different roast every Sunday for $25, but beware there's often only a limited number of portions (from 5.30pm).
The Pacific Beer Expo was a fine Sunday afternoon with friends, some tasty nibbles by Ruth Pretty Catering, and some eclectic and interesting beers.  My favourite – the Wellington ParrotDog Barrel Aged SleuthHound, 6.6%ABV Barrel Aged Scotch Ale (a preview beer, so hopefully it'll live a good long time).  The oddest – Funk Estate Pinky and the Grain, 8.8% ABV Pink Pepper Saison (kava inspired this one I reckon!). Thanks Hashigozake.
Mid-week saw burgers at Joe's Garage, with the lamb and haloumi surprising with generous pieces of tender lamb, and the beef getting the thumbs up as well.  Every night is burger and BYO bottled wine (no corkage) from 5pm.  As long as you spend $15 (which the burgers start at) all good.  They have other menu options for non-burgerers, but were doing a rather fine burger trade, so clearly the word is out….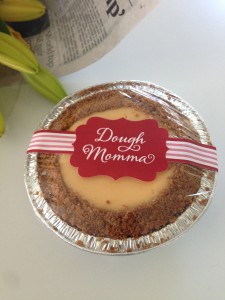 The City Market highlight this week was the ability to sample Dough Momma's pies.  OMG the key lime pie, so good a mini one fell into my handbag.  Follow Dough Mama on Facebook to see what her weekly pie cook-up is (usually listed Tuesday/Wednesday) and email or text your order by 6pm Wednesday for a Friday morning delivery.  Yummo!
And for those Ernesto's fans of days gone by, a pop-up Ernesto's brunch is available inside El Matador for Saturdays and Sundays through to 4 November.  And yes, the iconic carrot and fennel toast was on the menu. You still have time…
And lastly, but certainly not least, the stumble across the Aeroshop Creative Allies coffee bar (Flight coffee) in the front corner of their graphic design studio at 80b Wallace Street (in half of the Supreme Dairy up past Wellington High and Massey) proved to be a rather fine stumble.  Serious buckets of cool here, including the collectables and graphics to view while awaiting one's potion, and offerings of hemp, almond or oat milk for the non-dairy among us.  Superb.
Have a happy (hopefully) short week.