Xmas pud, boozy black forest….and a very Merry Xmas!
Mmmmm xmas.  Holidays.  Summer sun (we live in hope).  And gelato.
Graham Joe at Gelissimo has it all sorted.
Small batch, hand crafted gelatos using Zany Zeus organic milk and real seasonal ingredients.  Watch out for Gelissimo gelatos on menus around town where Graham and various chefs (Scopa for example) have collaborated to create a flavour for a particular dish (blue cheese gelato with pear dessert anyone?).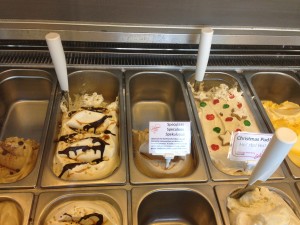 And if you're quick, the xmas specials are available in 1 litre tubs for a short time (xmas pud, boozy black forest and boozy zuppe inglese)  – see Graham at his factory shop beneath the Stock Exchange at Taranaki Wharf.
Otherwise you can try many of his creations at outlets at Tommy Millions on Courtenay Place, the booth at Freyberg Beach, the ice cream cart at the Sunday City Market (from 26 January after those good folks have all had a well deserved rest), or the original shop at Eastbourne.
Especially if you're a dark chocolate fan (consistently voted by punters as suitably dark and chocolatey), a ginger beer fan (Graham relieves Rebecca of Hardie Boys of her close-to-date bottles), an espresso fan (the Gentleman's Bean espresso put to good use), a damson plum fan (one of this year's ice cream award winners), or a speculaas/speculoos/spekulatius fan (spelt the Dutch, French and German ways to satisfy all who kept pointing out the spelling mistakes!).
Merry xmas and enjoy the break.