A true brew
For those who love cold coffee on a hot day (finally!) or just want to have a bottle of decent caffeine on hand for those days when you can't get out for a coffee, barista Aklesha has opened a small True Brew coffee bar up in the Grand Arcade doing single origin 'manual brewing' (no espresso machine, no milk and no sugar) and specializing in cold drip concentrates.
The intention is a bar where people can chat with each other or Aklesha, enjoy a sense of community (and Arobake goodies – winner of the 2013 national xmas mince pie contest!), and learn more about manual brewing while he creates their daily fix.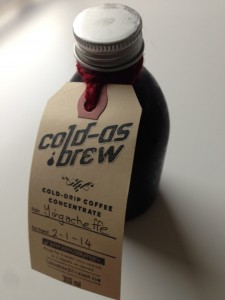 Manual brewing for Aklesha includes cold drip, infused cold drip, chemex, jebena and V-60 pour over, and as he states on his website 'results in a richer and more intense coffee experience, not unlike top shelf drinks'.  You can read more information about Aklesha's background here.
The 'cold-as brew' takeaway concentrate is sold in small 300ml bottles, with a variety of different origins depending on what Aklesha has recently brewed, and should provide six servings (return the bottle for credit as they're reusable).  The origin I tried was Yirgacheffe (Ethiopian), which was tasty with a light chocolatey after-tone.  A refreshing change to hot coffee.
Pop by and see Aklesha Wednesday to Friday 8am – 4pm upstairs in the Grand Arcade near the lifts to the LightMan and Boulcott Street.