Webstock 2014 Wednesday Warmup with the Wellingtonista and Web Drive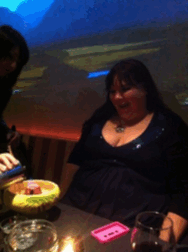 It's that special time again! For the fifth year in a row, we'd like to invite you to come and have a drink with us before the Webstock conference.
You know the deal with this by now – it's not an official Webstock event but they like us, and it IS an official Wellingtonista event. This year we have a friend along too, so please welcome your co-hosts, New Zealand's #1 web hosting and domain name provider Web Drive.
This is an excellent time to catch up with the people you only see once a year or so, talk tech, flirt, find new friends to sit with during the conference, put faces to Twitter handles and just generally have a good time. Even if you're not going to Webstock, you're very welcome, but be warned, you may feel very jealous.
This year, we'll be at Bettys [sic] Function House on Blair Street. In further exciting news, thanks to the good people at Web Drive, there will be subsidised drinks (until the bar tab runs out) hurrah! And the whole bar will be given over to Webstock attendees/friends of, so you'll have something in common with everyone in the room. It will be grand. Please do come along.
Oh! And if you're not coming to Webstock but you'd like to, you should know that Webdrive is running a competition for an all-expenses paid ticket and flights and accommodation to Webstock so you will be fully taken care of. You definitely want to enter/encourage your friends to enter that one.
A note on accessibility: wheelchair access to Bettys is available through Hummingbird Eatery & Bar. Est 2000 around the corner. We recognise that's not ideal.
We've made a Facebook event if you're into that sort of thing, and suggest you might like to use the #WWWWW tag on Twitter – Webstock Wednesday Warmup with Wellingtonista & Webdrive.
What: Drinks with good people
When: From 5.30pm, Wednesday February 12
Where: Bettys on Blair Street
Why: Because it's nice to catch up with friends and meet new ones
Who: You!