Fix and Fogg, Wooden Spoons and Little Black Devils…
Some more Wellington artisan products now all available under one roof at Moore Wilson for your tasting pleasure, and more well deserved chocolate accolades for Bohemein fresh chocolates (long time provider at MW).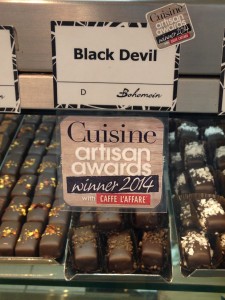 (Detective) Fix and (Phileas) Fogg (around the world in eighty days anyone?) peanut butter might provide the first serious local contender against Pic's (we count Nelson as part of the wider Wellington region!) – just Australian peanuts and a little Marlborough sea salt. Quite a rich flavour. You can also check out the nutritional value of each tablespoonful here.
Previously only available to your door monthly on subscription, Wooden Spoon ice cream is now in the MW freezers.  Alas I was on foot and either had to carry it in my tummy (a little hard to share) or had planned MW as the last stop before home (no foresight), so I will have to return prepared soon.  The flavours catching my eye were ANZAC biscuit, People's Coffee Ca Phe Da (Vietnamese-style iced coffee) and Key Lime pie.
And lastly, but bestly, congratulations to Bohemein chocolates for once again being the only Wellington product in the Cuisine Artisan top ten awards for 2014 (the runner up product no less) with their Little Black Devils – chewy caramel with freshly roasted cocoa nib topping.  Rated by the judges as well balanced in both texture and flavour and not too sweet, this is a grand follow up to the 2012 top ten award for their Sea Salt Caramel. Nicely done George.  Get thee to a Bohemein store or MW post haste.