Xtending ourselves to try a new bar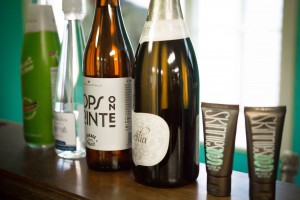 When Lou from LOUD in Public PR invited us to the opening of Xtend Barre Wellington, we weren't entirely enthused on the idea.  Great that a big brand was coming to New Zealand and had chosen Wellington first before Auckland, but an exercise studio promoting a workout fusion of ballet and pilates is not exactly our thing – because well, you saw the word exercise, right? BUT if you are into exercise, you should definitely keep reading or jump straight to the competition bit.
But, Lou is a friend so we came along for a look.  She said the event had great sponsors, so instead of focusing solely on the studio, we'd be able to try an array of beverages and some delicious raw vegan snacks as well as get a swag bag with many treats. She was definitely talking our language!
First up on the bar was Allan Scott Cecilia Bubbles.  A sparkling Chardonnay, reasonably light but with a fruity texture.  We had a couple of those and didn't feel too spacey, so all in all – good.  Next was a sparkly beer from the Garage Project – Hops on Pointe.  This beer was specifically designed for the Royal New Zealand Ballet, so it fitted in well with the opening of the studio.  Sparkly though – can you see a theme, here?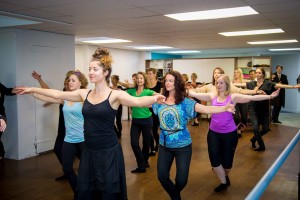 Nirvana Coconut water was next up and unlike most coconut waters that taste utterly terrible, this one was surprisingly delicious.  Xtend Barre is all about hydration – so I wasn't surprised to see a water brand up there too.  Te Waihou water came in a pretty bottle and, well, it's water.  Tastes clean and like bottled water does.
Food wise we were offered a selection of raw vegan snacks.  We tried the kale crisps and the bliss balls – both pretty good. Other Wellingtonistas will disagree with me but you don't always need cheese to have a good time!
Our swag bag contained a pass to try an Xtend Barre class, some Xtend Barre sticky socks, a bottle of water and a sample of Skinnies new beauty gel.
It's entirely possible you're less lazy than me, so you can check out Xtend Barre at www.xtendbarrewellington.com – they are at 8 Ebor Street – just opposite Moore Wilson.

In fact, we even have a giveaway! You can win a pass for an Xtend Barre class, a bag and pair of sticky socks to do the class in. They are supposed to be sticky we swear! Just leave us a comment telling us what you think a specifically Wellington kind of exercise is (like "The Mighty Mighty Stair Climb" (RIP) or "The vege market grab and lift"). We'll draw a winner at random next Friday.