Can it really be the end?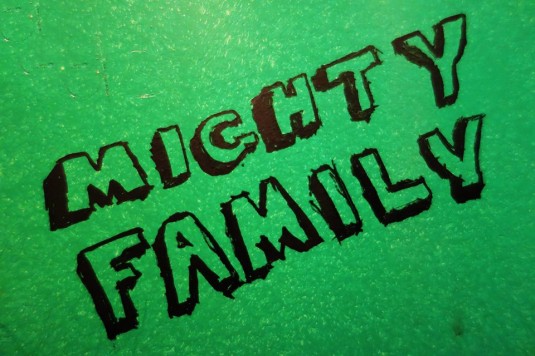 Well the Castle that Cares is on its last week and boy is there a line-up celebrating the highlights and the high-nights of the good ship Mighty Mighty.
We've Wellingtonisata Awarded prizes there, we're broken up, pashed up, made up, spewed up, chatted up, felt up and partied hard with the best of them. And now as Sally Thomson, best bar keep in the city says, "LET'S DO THIS"!
STARTING TONIGHT! 
WED 21 "Make Out Night!"
with Tender Moonlight, Double Dipp, Vodka Slide, Kissing Booth, MC Instant Fantasy and DJ Daif!
The Final week of Mighty Mighty celebrates the Make Out! Featuring the super sexy Tender Moonlight in full raving sleaze-zone, Double Dipp's super-explicit rhyme time, Purpose built Kissing Booth, The Ol' Vodka Slide, MC Instant Fantasy!, DJ Daif and more…!
ENTRY: $5
FIRST BAND BEGINS: 9:30PM
———————————————————————
THURS 22 "Robot Party!"
with Disasteradio, Golden Axe, Robot Costume comp, MC's Optimus Prime and Sal-Bot and DJ Neon Eaton!
Night 6 of 8 final Nights features the Robo-Disco Party of Ultimate proportion. Special guests Disasteradio and Golden Axe electrify the night amid boppin silver androids and cardboard clad compubots! Come dressed in your best Robo-Suit to win the Ultimate Robot Trophy: The Johnny Broadband Award! Special guest MC's Optimus Prime and Sal-Bot and DJ Noen Eaton!
ENTRY: $5
FIRST BAND STARTS: 10PM
———————————————————————
FRI 23 "Country Night!"
with The Rye Grass Staggers, Ping Pong Country, Moonshine Hut, DJ Cousins and MC Field Days O'Brien!
The 7th and second to last night open EVER for the Mighty Mighty celebrates the cousin in us all – COUNTRY NIGHT! With special guests the Rye Grass Staggers, the classic Ping Pong Country Comp, Guest DJs, Moonshine Wagon Shack and special rural MC Ol Field Days O'Brien! Come join us before you simply cant!
ENTRY: $10
FIRST EVENT STARTS: 6:30PM
———————————————————————
SAT 24 "Party Til You Die!"
The Final night featuring The Users, Lightning Tape Wolf, The Raskolnikovs, Mega-DJ-Battle, tears, laughs, hugs and more!
The Final and Historically LAST EVER night open for the Castle That Cares! After 7 and a half years of the most eclectic and questionably appropriate behaviour we close our doors in the best way that we can: at the end of 2 weeks of it!! Come join us for one heck of a last party featuring very special guests The Users, Lightning Tape Wolf, The Raskolnikovs, a plethora of our eregular DJs together, Words that need to be said, folks that need to be thanked, blastin dancefloors, special surprises and a big hug. THANK YOU WELLINGTON!!!
ENTRY: $10
OPEN FROM: 4PM