World of Wearable Arts Season
I've heard the complaints; World of Wearable Arts – WOW is for women of a certain age and is far too expensive. I'd not been to the show before so I couldn't confirm or deny, but oh wow are those people wrong. To start with WOW to me was two experiences seamless melded together, and also a marking of Spring in our city.
First the competition itself (which is what you think WOW is solely about but you'd be wrong), where some truly amazing garments go up against each other in eight Sections, with a Supreme Winner being named best of the best. For 2014 the Brancott Estate Supreme WOW Award went to 'Poly Nation' by Kate MacKenzie of Hawkes Bay.
I'm a fan of vintage and second hand, but Kate's manipulation of leather and cardboard suitcases to create two wearable and functional garments along with a cycle wheel-powered Waka, is fantastical. That someone even thinks to do that, is one thing, that they then do it and its finishing is impeccable (it doesn't come across as a mess of hot glue or bits of string barely holding things together) feels like crazy genius territory. In both the construction of the garment and in the message it conveyed particular to post-colonial NZ and our myriads of tourists, this is Art. Not something pretty, not something kooky or fun but actual art. Art that fits on a body and can withstand being worn night after night for 15 shows.
That's just the winner; the other 166 entries work with textiles and transform materials into a textile in a myriad of ways. Could you imagine a bra – a functional bra – made out of skateboards? Not me, but yes it's possible. 'Re-Decked' by Sebastian Denize, New Zealand won the ever popular Bizarre Bra Section which returned after a break in 2013.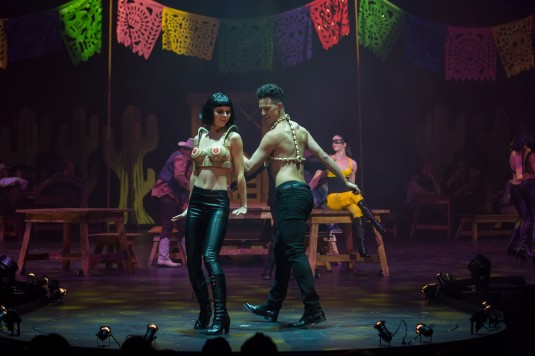 The second experience is a whole other thing. A fantastical show featuring 42 of NZ's best and emerging modern dancers performing to choreography by Malia Johnston (WOW® Artistic Director and Principal Choreographer since 2002) and leading New Zealand dancer and choreographer Tanemahuta Gray. It's very infrequently that NZ dancers are given such an expansive stage to perform on, so it's a real treat seeing how they leap and move across the stage. Add to that eight aerialists and 28 special performers, which includes an amazing feat of no hands, upside down feet-only archery. Finally add to the mix some Shaolin Monks and NZ's Strike ensemble and you have a stage show bigger than anything Broadway could ever offer in one night.
I loved how WOW magically mixed those two experiences to create their wonderful world of garment competition and stage show. It's like nothing I've seen before and as the lights came up all I could think was "again, again!'