Fancy times at a fancy hotel
Wellington does not have a lot of very big big hotels. I believe the Rydges has the most guestrooms (at 280), and the mayor was misquoted in the Dominion Post as saying Wellington has no five star hotels – a fact the Bolton and the Museum Art Hotel would probably take umbrage with. In fact, what she meant was Wellington has no five star hotels with large conference facilities, which is true. Wellington does have a grand-daddy of big fancy hotels though, and that is the InterContinental Wellington (232 rooms).  A little while ago, their lovely marketing manager Geoff invited me to the reopening of their Club Lounge, and I jumped at the chance.  I must have behaved myself okay because I was also later invited to try out the new menu at Chameleon (If you're not into hotels, just food, you can jump straight to that bit).
For those of you who aren't high falutin' business executives who stay in fancy hotels all the time, Club Lounges are the hotel equivalent to the Koru Club at airports – a place with comfy seating, nibbles and drinks away from the hoi palloi. Why slum it in the lobby (more on that later) when you can drink for free upstairs?
The space had just been renovated, and it was gorgeous. High up in the building amongst the recently renovated Club rooms, the corridors are very Alistair Cox-esque (though not done by him), dark wood like the Matterhorn or any number of Mojos, so it was surprising to walk into a light and airy room with a great white fireplace. Actually, I have a press photo, let's use that!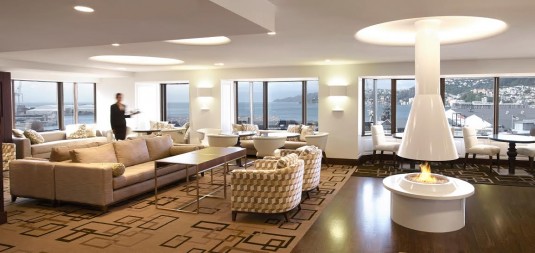 Very comfortable. Because it was their show-off night, executive staff were out in force, and they were astonishingly good at working the room. We were treated like royalty although somehow we failed to get an invitation to meet the hotel building's owners who were present that night (here is something I didn't know: most hotel buildings are owned by someone who then brings in a hotel company to run them, much like other buildings will bring in a company to run the cafe space in there). Perhaps my gold-digging agenda is a little too visible. You know what else is visible? The street, from the toilet cubicles – although we were assured it was mirror glass. It's fun to pee while looking down at Grey Street – it would be even better had there been a thousand screaming girls out the front waiting for Ed Sheeran or something (musicians playing the TSB Arena often stay at the Intercontinental because it's right there, and it's five stars, etc). Another highlight was the tower of macarons in all kinds of colours and flavours. Apparently they're baked in-house, and they were fabulous. We may or may not have filled our pockets before we left. You can't take me anywhere.
But you! You too can experience the impeccable service and beautiful furnishings of the club lounge, if you book a club room. The Intercontinental's website is rather short of information about the full suite of Club perks, other than saying you can enjoy complimentary breakfast, afternoon tea and pre dinner drinks and canapes in it. At the Rendevous in Auckland, I know they offer club upgrades when you check in for $90 – which includes parking and fast internet.  Here based on room prices for Saturday night (pro tip: hotels that primarily cater for business travelers are always fuller and therefore more expensive on Tuesdays and Wednesdays), you're looking at $369 for a deluxe king versus $549 for a club king. The room features are probably different – we were told that the club rooms feature touchscreen  controls for everything from the lighting to the curtains – so whether that's money well spent is an area in which your mileage may vary. Consider also that breakfast in Chameleon would set you back $37 a head for full buffet, so if there's two of you, and then you throw in valet parking at $35 and wifi at $25 (I don't know for certain if they're included though), and let's say four drinks ($11 each, they've got a beautiful range in the club lounge), the price difference does sort of start to justify itself. Well, if you can pay that much for a room in the first place. I would love to be able to, but it would have to be a very special occasion.
Dining at Chameleon
What you might not need such a special occasion for, however, is checking out the also newly renovated lobby, bar and Chameleon Restaurant. The lobby is no longer a throwback to early nineties granduer, all echoey marble. Instead, there's a doublesided fireplace, lovely velvet armchairs and a much more natural feeling with dark wood and stone. Meanwhile Chameleon, which I haven't dined in since I went for my best friend's 12th birthday in 1992, has also been given a beautiful makeover. While they couldn't do much about the very '80s windows, tables are now light marble-topped, a big banquette down the middle of the room helps to absorb some of the noise, and chairs are gorgeous Scandinavian wood. They have really great glassware and stylish cutlery, because small details are important. The buffet, necessary for hotel breakfasts, is now concealed behind more marble, and the kitchen has been opened up and addorned with copper pots. The menu has been completely redone too, with a focus on medium-sized plates of seasonal produce, divided up by sea, farm (meat) and vegetables. You can get two courses for $50, three for $70 or four for $90. Since we were dining as Chameleon's guests, I thought it would be fun to leave it up to the kitchen as to what we ate, with the guidance that we were both big eaters, and that unfortunately shellfish and I are not friends.
Things kicked off with a complimentary amuse bouche of blini topped with smoked salmon and creme fraiche. Yum!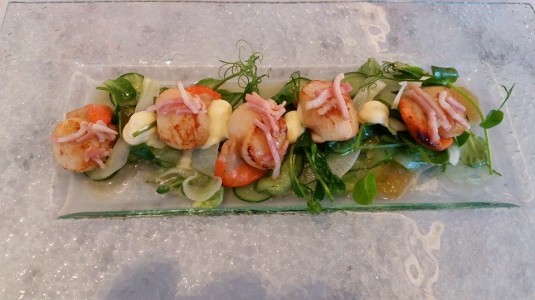 For the first course, Demelza was presented with scallops and chorizo, while I got the pork brawn with celeriac remoulade, rocket, pomegranate & port reduction. That's probably the one thing on the menu that I would not have chosen, because quite frankly aspic reminds me of cat food, but it was surprisingly tasty, once I got past the jelly aspect of it.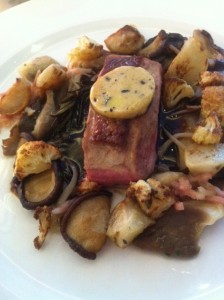 For (or I suppose just course #2), we received duck breast cooked twice with wild mushrooms, jerusalem artichokes, cauliflower, bacon and truffle butter, as well as lemon thyme crusted line-caught groper with taramosalata, olive oil new season potatoes and tomato vinaigrette. We swapped plates half-way through, though I was very reluctant to give up the duck. It might sound like a crazy amount of flavours, but they worked together. Totally worth the $26. On the side we had what I thought at the time was a bowl of green beans, so I was surprised to find an egg lurking at the bottom of it. Looking at the menu now, I realise it must have been a nicoise salad – which definitely would not be worth $26, so be careful in your choices if you're looking to get value.
The kitchen didn't choose desserts for us, so, since the portions had not been huge and we were indecisive, we ordered three to share – a passionfruit & coriander tart, a vanilla pannacotta with rhubarb soup and rhubarb compote, and a selection of petite fours. Woah. To paraphrase Ralph Wiggum, desserts are where Chameleon is a viking.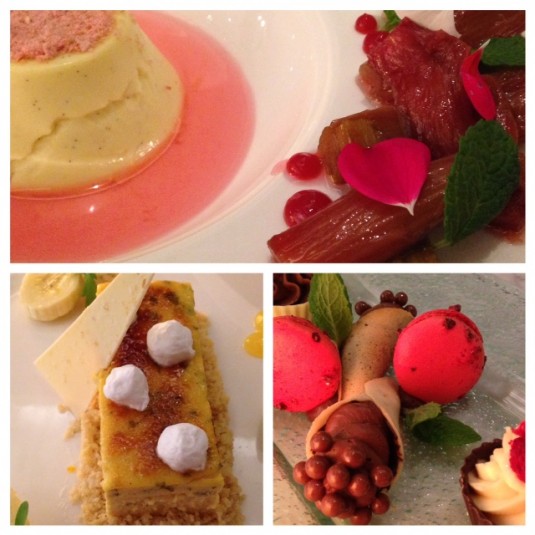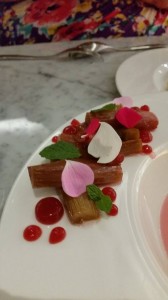 The passionfruit tart was nice, though the coriander wasn't too obvious, but those petit fours, oh lordy! Best chocolate mousse I've had (outside of my mother's) piped into little tubes. The macarons which I have already raved about. Turkish Delight that was actually delightful (though I'll never understand why anyone would betray Narnia for something that doesn't even have chocolate in it). The pannacotta jiggled most delightfully (of course we shook it) and that soup was something else entirely, such intense lovely flavour. Everything was plated so perfectly too. Look at how pretty that rhubarb is. LOOK AT IT. It would be well worth going to Chameleon for dessert alone.
Along with the fancy food, there's a pretty extensive wine list with many things available by the 125ml or 250ml pours, a decent beer selection including a couple of craft beers, and a loooooong whisky list. If you're the kind of person who orders $95 glasses of Scotch, the Intercontinental can take care of you, and frankly, so can I, okay?
But joking aside, before I had dinner there, I would have avoided Chameleon expecting it to be just generic hotel fare. Now though, I would definitely go back, and am already planning my next serving of that pannacotta. It will not be a cheap night out, but it will be a pretty and tasty one.