Win tickets to the Grand Speakeasy Murder Mystery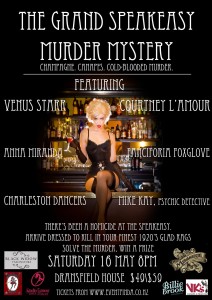 Champagne, canapes and cold-blooded murder are three of our favourite things, so we're pretty happy to be able to have a double pass to give away to The Grand Speakeasy Murder Mystery on this Saturday, May 16.
Romeo was found tragically poisoned in the speakeasy, join the investigation into his murder and help a psychic detective solve the crime.
The Grand Speakeasy Murder Mystery is an interactive 1920s themed murder mystery produced by Courtney L'amour.  The murder mystery combines the traditional audience participation murder mystery format with the performance elements of a Burlesque and Cabaret show.
"We have such a great range of performers involved in the production." says Courtney, "The combination of improv and comedy from the actors, alongside the visual entertainment from the other performers is a great mix, and creates a wonderful, vibrant atmosphere."
Actors will be playing out the live murder mystery interspersed by performances from established local singers, magicians and burlesque performers. The show features
Venus Starr
Courtney L'amour
Fanciforia Foxglove
Anna Miranda
Mike Kay – Psychic Detective
Charleston Dancers
Music by the Klaus Vermilion Quartet
There are a bunch of prizes to win on the night including dance class vouchers from Studio L'amour, tickets to The Menagerie, a photoshoot from Paradox Photography, tickets to a pro comedy night at VK's Comedy & Blues Bar, headpieces from BlackWidow Fascinators, rental vouchers from Costume Cave, passes to New Zealand Burlesque Festival shows and more.
The show takes place at the suitably vintage Dransfield House – which if you haven't heard of it is a historic places trust-registered building at the top of 335 Willis Street. Be sure to dress to kill in the Speakeasy style to be able to win prizes for best-dressed!
You can buy tickets, which include a glass of champagne on entrance and canapes, for $59 via Eventfinder, but because we love you, we've got a double pass to give away. Just leave us a comment before midday Thursday telling us your favourite thing about the 1920s, and we'll draw a winner at random. Fabulous.