Sleeping Beauty on Ice
Sleeping Beauty on Ice plays at the St James until the 5th July.Part of a worldwide tour by the Imperial Ice Stars, a group consisting of actual skating heroes. It is based on the ballet set to Tchaikovsky's tunes. I'm pretty convinced all ballet should actually be performed on iceskates, an opinion formed in the heady days of Torvill and Dean performing at Hagley Park in 1984.
The show began with the wonderful prologue in Carabosse's lair. It was a bit like Rocky Horror Show on ice, with the evil minions sinewy movements giving the audience no doubt that all that sexiness was evil.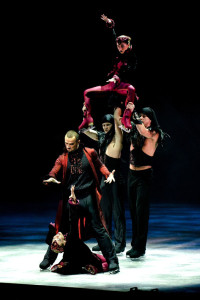 Moving on the First Act is largely set in the royal court and involves lots of fancy skating and pretty frocks, handsome fellas and displays of athleticism that left me breathless. These skaters are so accomplished it feels totally out of whack to see them performing here. There are some snazzy MJ moves snuck in, so keep your eyes on that King.
The Second Act is where I became completely entranced, there is aerial work, fire, hunting dudes, owls. Something for everyone. The handsome prince is handsome and Princess Aurora (Sleeping Beauty) lovely. At the conclusion of the show as part of the bows each of the skaters took the opportunity to show of some of their finest skills, much to the audience's delight.
The demographic of the crowd was approximately 60 years older than I'd expected, and very appreciative they were. I took my 6 year old and it was right up her alley. I daresay if you like a bit of kitsch, romantic, athletic fun you'd enjoy this. And to be honest, the novelty of people iceskating on the stage at the St James is worth the trip alone.