Escarpment
Abandoned railway stations. Precarious swingbridges over precipitous chasms. Hidden valleys full of lush forest. Remnants of ancient kāinga.
Those might not be what you'd expect from the recently-opened Paekakariki Escarpment track. I certainly expected rugged landscapes and magnificent views, and you get those in abundance, but there's much more here to be discovered than you might imagine from passing by on the train or coastal highway.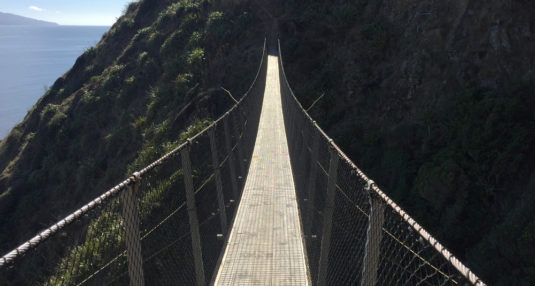 For such a diverse and often dramatic track, it's remarkably easy to reach from the city. The best access is by train, since each end is a short walk from a station on the Kāpiti line. There's some information on the Te Araroa site, but unfortunately no map yet, so I made one on Google Maps showing the track, with access from railway stations at either end (I'll add it to OpenStreetMap when I get the chance).
If you start from Pukerua Bay station, the easiest way is to cross the tracks, take a shortcut through the playground to Sea Vista Dr, cut across the grass at Muri reserve, then follow the Te Araroa signs east along the railway corridor. This first stretch is less picturesque than the main track, being sandwiched between the main trunk line and private land studded with KEEP OUT signs, but if you're the sort of weirdo who appreciates edgelands landscapes and crumbling infrastructure, there's plenty to keep you interested. The recently decommissioned Muri Station still bears a cheerful mural, but encroaching graffiti and broken windows lend it an eerie out-of-time aura. Further along, an ivy-encrusted concrete shelter shows signs of unofficial adaptive reuse: someone installed a large gas barbecue within its spalling walls, and that too is now succumbing to rust and creepers.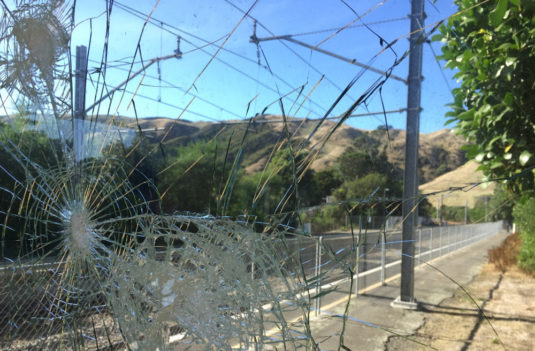 Once the railway reaches the tunnels, the walking track rapidly ascends. I thought I was being clever by taking the "downhill" route, but the track jags sharply up and down so much that even in this direction the total ascent is nearly 500m, compared to 580m in the southbound direction (for comparison, Mt Kaukau is 445m above sea level). It's not a hardcore tramping track, but it's no walk in the park either, with unforgiving sets of vertiginous steps that are an acrophobe's worst nightmare. On a clear, still day the endless views and crystalline waters below will take away what breath you have left. In a howling northerly…well, you'd have to be a lot braver than me to attempt it.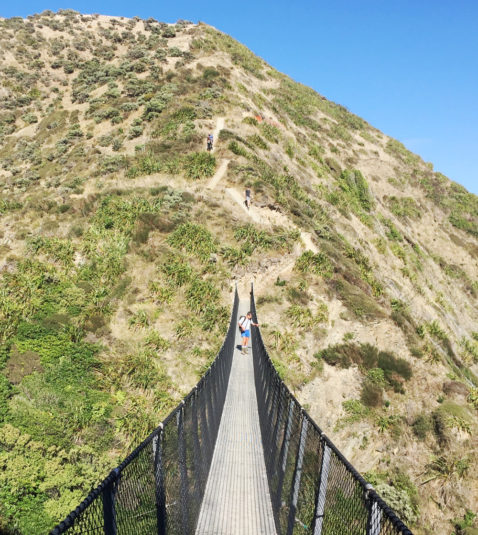 I expected the landscape to be magnificent though largely barren: crumbling greywacke and rank grass interspersed with gorse, harakeke and tight clumps of windswept mingimingi. Certainly, these species dominated the exposed bluffs, but as the path ducked into ravines I found brief, welcome shade in patches of regenerating māhoe and kawakawa. It was an even more pleasant surprise when the track began to snake inland into cool, dark hanging valleys, invisible from the coast below, full of fruiting kohekohe. This relative of tropical mahogany used to dominate the western hills from Karori to Kāpiti , and in protected areas you still find dense stands: sometimes gnarled and twisted from the elements; sometimes tall and proud. They have the unusual habit of cauliflory, where the flowers and fruits spring directly from the trunks, and right now many of them are in full fruit.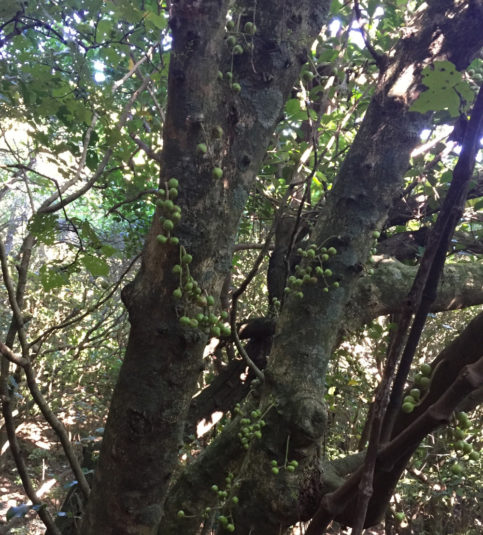 The northernmost section stays relatively close to sea level, and is a mosaic of open country (dusty trails scented by sun-bruised fennel) and patches of regenerating forest, much of the latter thanks to the volunteers of the Ngā Ururoa project. But the planting started much earlier: groves of glossy karaka and papery-leaved whau, this far south of their natural range, are likely to have been planted by southward-migrating iwi, used for food and wood respectively. In the photo below, the dark vegetation in the middle distance is all that remains of Pari Pari kāinga. The terraced gardens of this Te Ātiawa village are long gone, lost to erosion and to the railway construction that also demolished the once-famous archway on this headland.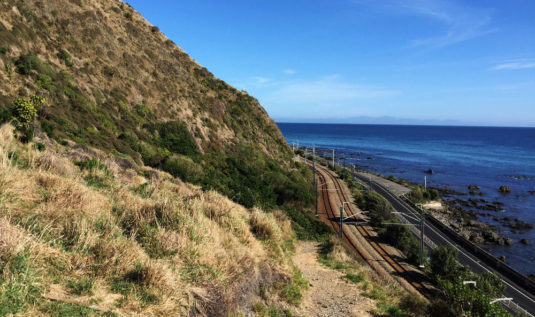 The last few kilometres are easy going, though some of it is alongside SH1. Don't bother trying to cross over to the Fishermans Table: press on to Paekakariki itself, where there are some decent cafés (another reason to take the northbound route).