A night at the Bolton Hotel
Back in August, our editor Jo attended the Bolton Hotel's Wellington on a Plate event and enjoyed it mightily. In the ensuing interplay on Twitter, the Hotel invited one of us to stay the night so that we could experience their hospitality more fully. I quickly took up the offer on the behalf of the Wellingtonista… and so it was that R. and I found ourselves dropping the kids off for the night and checking in to the Bolton Hotel on an incredibly miserable and wet Saturday evening.
The Bolton is, as you might expect, just off the Terrace in Bolton Street. It's a funny area of town – very public servantish – that is becoming more interesting at nights and weekends as new bars and restaurants open.
But given the weather, there'd be no romantic evening walks in the Botanic Gardens or in Bolton Street cemetery for us. We had no inclination to wander over to Tinakori Road to the cluster of pubs and restaurants there, or up the Terrace to find those new spots the other Wellingtonistæ talk about, nor even to go for a pub meal somewhere like the Backbencher or the Thistle Inn. And certainly not a flicker of interest in trekking uptown to Courtenay Place. No, it had been a long week and we wanted quiet. So how could the Bolton make a Saturday night indoors even better?
A lot, as it turned out.
The staff were friendly, and made sure to let us know that while they could look after our car for us, the car park next door was also a (cheaper) option. It was good we didn't have to ask. We started to feel that there was a bit of thought going on here and the result would be quite a bit more advanced than a corporate commuter dormitory hotel.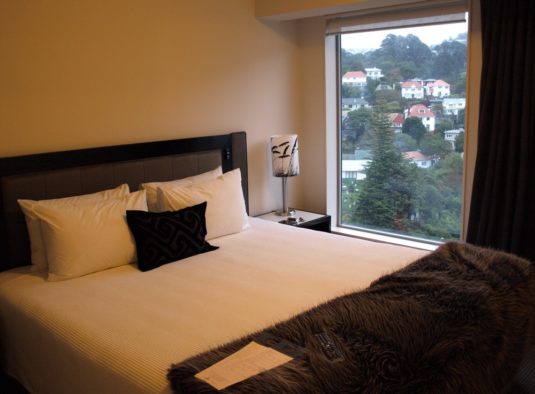 We'd been given a lovely suite on the 16th floor with a full kitchen and separate bedroom, looking out across to the gardens and that unnamed suburb immediately above the motorway. I particularly liked how the windows framed a mix of tangled greenery and stacked wooden houses that is to me a signature Wellington view. With the rain sweeping across the foreground it was quite picturesque. I imagined the sun on the green in the early morning and hoped we might see just that.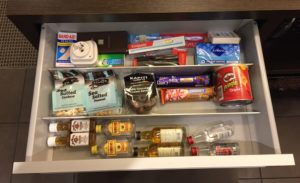 With our bags down we did all the requisite room-exploring:
"What's in this drawer?" – "That's cool – it's full of useful stuff like toothbrushes, tampons and painkillers"
"What does that soap smell like?" – "Very nice – we'll be taking that spare home I think"
"What are these wines over here?" – "Hunters! Excellent! We brought our own but we might need it"
"How big is the bath in there?" – "It should fit two very friendly people"
"How does this TV work" – "Nope, the Smart TV won't reach Netflix… but we do have Sky for the game tonight"
"There's a TV in the bedroom too?" – "Yeah but we won't be needing that"
"How do I get onto the free wireless?" – "Here's the code on this in-room iPad. We can watch some GoT later"
"How do we change the air conditioning?" – "There's a digital thing just here"
"How comfy is this bed?" – "…Yup."
But before we got too comfortable we thought we'd see what else the hotel had to offer.
Most hotels have a little gym; some have pools and a spa; the Bolton also has a sauna. We were a bit tired for a sauna and so contented ourselves with a dip in the spa (but definitely missed having a glass of wine at the same time – no glass is allowed in the pool/spa area for obvious reasons). Relaxation: achieved! After that though we were starting to feel a bit hungry.
We had been quite keen to try the in-house restaurant, Artisan, but that night was fully booked for a wedding. However Room Service was (of course) still available, and this turned out to be genius. Other times I've stayed in hotels – usually for work – I've never really used Room Service, preferring instead to wander out into the town in search of something more interesting (and to be honest, cheaper). Here, the menu was way better than that, and even though our choices this time weren't particularly adventurous, when they arrived (in less than 40 minutes!) they were perfectly done and very reasonably priced by Wellington restaurant standards.
Our room was big enough to have a small dining table in it so we were able to sit as adults and have our steak and hand cut chips together while watching the rugby game which had just started on TV. This very moment felt like a kind of low key peak experience: we were in our home town, but removed to a little bubble of relaxation where we could just enjoy each other's company and not think about anyone else or anything else except what was right here and now. Also, the steak was fucking awesome.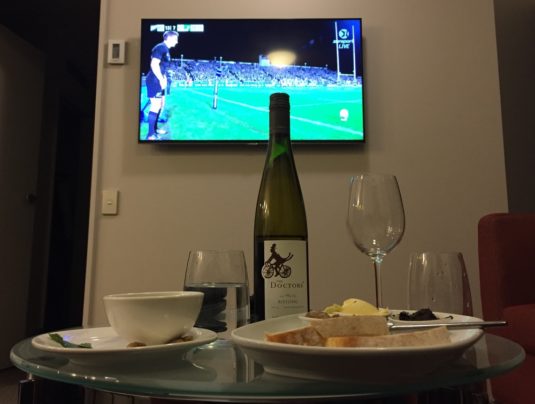 The evening followed on in that relaxing vein: a just-right dessert of chocolate mousse / raspberry sorbet; and then we accidentally opened a second bottle of wine. The rest is really none of your business.
The next day started slowly; but that was OK. A buffet breakfast was included so we went down to the restaurant. There's a limit to how good a buffet breakfast in a hotel can actually be but the Bolton's is one of the best I've had. No rubbery scrambled eggs or cardboard-like bacon here – they had your standard full cooked breakfast but all good, freshly cooked and very tasty stuff; they had even made their own baked beans! This was just what we needed to fortify ourselves for the reality outside the hotel doors.
And so we had to check out. It was still raining; no morning sun on Te Ahumairangi to view through the picture windows. But with the help of the Bolton Hotel we had defeated cabin fever and could get through the rest of that rainy weekend. We'd done something fun and we'd hardly needed to leave home.
Disclosure: the Bolton comped us a room and breakfast package; we paid for our own dinner and drinks. The Bolton Hotel did not ask to see this post before we published it.
The nice people at the Bolton Hotel have provided a pair of Toast Martinborough tickets plus a room and breakfast package for the night of Sunday November 20th 2016 to give away to a lucky reader. (Note: you'll need to supply the transport to Toast and back.)
To get your hands on this amazing experience, write a sentence in a comment below, telling us why YOU and a friend should be the chosen ones. Answers close at 5pm 30th September. We'll randomly draw a winner. Good luck!