Dinner at Giddy-Up
The Wellingtonista got invited along to try out some of the dishes and have a beer at the Giddy-Up Mussel Bar, tucked away on Manners Street opposite Arty Bees bookshop. It sounded like a nice place to try out for a Friday evening dinner, so I took up the invitation and went there with my family recently.
We introduced ourselves to Maxine and Heath, the proud owners of this interestingly decorated space. Maxine explained that they'd been travelling overseas and noticed that mussels were often the basis of local seafood specialities, particularly through France and Spain, where you could eat the local shellfish tapas style. They wondered why no-one had thought to do this in New Zealand, given our fantastic green-lipped mussels, and started Giddy-Up to fill this gap.
The idea is self-service – you order and come up to the counter to collect your food, and afterwards take your plates back. There are limited utensils as almost all the food is designed to be eaten with fingers or, in the case of the mussels, eaten from the half-shell.
Maxine told us they get their live mussels shipped twice weekly from the Hairy Mussel Company down in the Sounds (itself another business born of a passion for mussels), and brought out a couple of platters for us to try.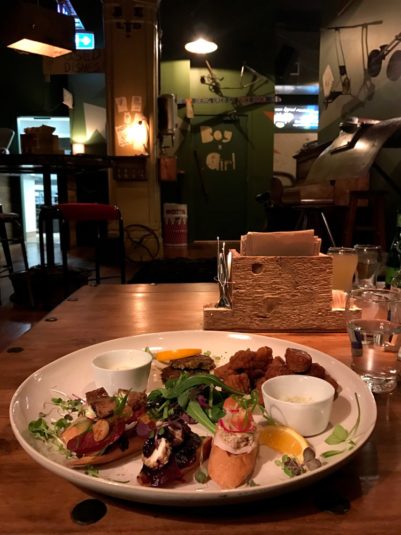 On one was several tasty bruschetta; a couple of utterly fantastic mussel fritters; a little pile of lovely smoky fish bites and some cajun style calamari; and on the other was a selection of dressed mussels. We particularly liked the bruschetta, the calimari and and the mussel fritters and between us we polished the lot off pretty quickly. We decided to order some more mussel plates and some bravos – a tapas-style potato dish.
We particularly enjoyed the cheesey bacon bravos; but some of the mussel plates were a bit hit or miss. The Chilli Blast plate – dressed with a paste of tamarind, chilli and coriander – was great; but the Green Envy plate – dressed with a overly creamy but fairly weak Thai-green curry style sauce – was not so good. However the Aotearoa Salad – a ceviche – found great favour.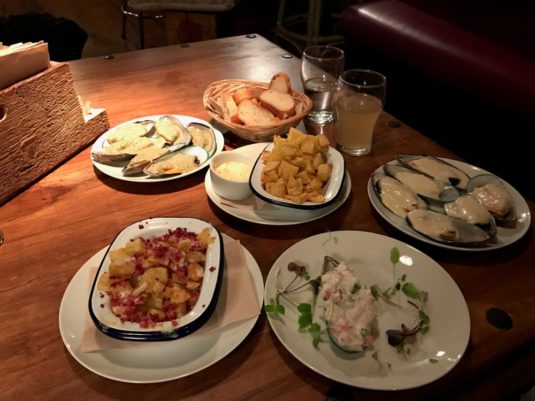 We did have a few problems with some of the bigger mussels, which weren't fully heated through and were also a bit large for some of us to eat comfortably without utensils. When we raised this afterwards Maxine said that the mussels delivered that week were a little larger than normal. Usually the mussels are steam-cooked earlier in the day, then chilled. They are reheated in boiling water just before eating, and perhaps their size required a little more reheating than was expected.
If you are looking for a place for a quick, reasonably priced meal before heading further down the street for the night Giddy-Up certainly delivers. If you are looking for a showcase for food that's NZ-mussel related you've found your spot, too (and Maxine notes that tourists are often very pleased to find Giddy-Up). If you mussel-phobic and are worried about going there with mussel-loving friends and not having anything on the menu you could eat: don't be concerned – there are a few other very good menu items you can have.
I'd go back for some mussel fritters and bravos, I think, and my co-diners would come back for the ceviche and the calimari and a few plates of (smaller) mussels.