Everyone's Adventure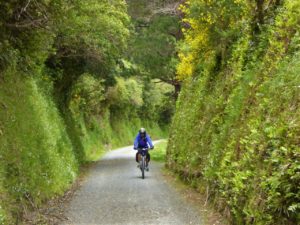 At the Wellingtonista, we mostly like to try the experiences we talk about before we talk about them. However, it's that time of year when every timeline compresses in on itself, and maybe all you really want to do is curl up in a ball and wait until 2016 ends. So we didn't quite get around to personally trying one of the activities in Everyone's Adventure, but we're gonna talk about it anyway because the concept is pretty cool.
Everyone's Adventure is a campaign to bring do-able outdoor adventure for free to as many Wellingtonians as possible. To quote them:
The three participating businesses are The Boatshed Days Bay, The Bike Shed Pencarrow, and Cycle Rimutaka. They hire out kayaks, standup paddleboards and bikes, and sell drinks and snacks. 

We've calculated how much it'll cost to operate those businesses safely and pay staff this summer based on last year's usage: it's $300k. Every dollar spent on gear hire, or snacks and drinks at the businesses goes towards that $300k total. Vouchers purchased as gifts are included in the tally. 

Once $300k is reached, gear hire at all three businesses is free, for anyone to use, for the rest of summer, until Easter 2017. 
There's more on their blog about why they're doing this and how it works.
The payoff here is that free is a lot more affordable for people who might not otherwise get a chance to try these experiences. And having done a few bike trips on the rail trail or out to the lighthouse with my family, I can attest to them being relatively easy and lots of fun.
So maybe you've thought about cycling the Rimutaka Rail Trail, riding out to Pencarrow from Eastbourne, or trying a spot of kayaking on the harbour… or maybe you know someone who would like to try it with you. At the Everyone's Adventure website you can buy vouchers for these businesses which will go towards the $300k target:
Buying a voucher entitles you to make a booking for that particular product. If we've hit our goals and that product becomes free, you can still book and reserve your spot (everyone else will be on a first come first served basis).
Once you've bought your voucher, and booked, all you have to do it get there. If you wanted to just try some kayaking then the East By West ferry is your best bet, dropping you right at Day's Bay by The Boatshed; while The Bike Shed is on the south side of Eastbourne, so not quite walkable unless you're keen (4.3km from the ferry). They've got all the gear, including helmets (for the bikes) and lifejackets (for the kayaks).
So, there you go: some vouchers from Everyone's Adventure might just save you one or two agonising Christmas present difficulties while at the same time helping others experience something new. Get to it!