Acting Local
Not that long ago, we thought we'd have to keep a careful eye out for the slow, creeping rise of fascism in America; now it's coming on as a rapid, terrifying avalanche. The massive, spontaneous airport protests against Trump's latest vile Executive Order give some hope for the rise of resistance in the US itself, but sometimes it seems as if we in New Zealand can only look on in horror.
Not quite. Actions such as the global gag rule and the Muslim ban cause harm all over the world, and New Zealand can play its part in fighting back or taking up the slack. I've quickly put together just a few Wellington-specific ideas for how we might be able to help.
Make your voice heard
Anyone can (and should) contact their local MPs about New Zealand's shamefully poor contribution to helping refugees (both Grant Robertson and Peter Dunne have spoken well on the issue already), but as residents of the Capital, we have a few more options. We can protest at Parliament or the American embassy, and even the small numbers at today's hastily-organised event helped send a message that the resistance is global.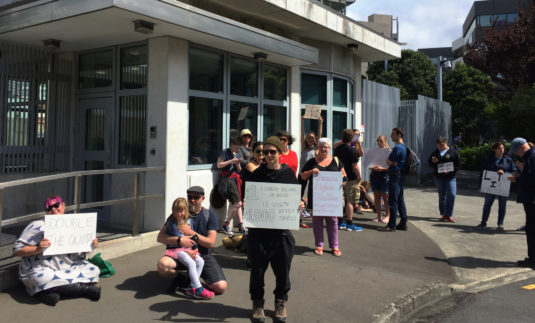 Action Station has a petition to bring some of those refugees that have been left stranded by this ban to New Zealand, which is something direct and urgent that a country that likes to think of itself as humane and caring could be doing right now. Both Justin Trudeau and Nicola Sturgeon tweeted messages that strongly welcomed (to Canada and Scotland respectively) "those fleeing persecution, terror & war…regardless of your faith", but at the time of writing Bill English has said absolutely nothing. You could email b.english@ministers.govt.nz or call (04) 817 6801 to let him know that he needs to do more, and perhaps glare balefully in the direction of Premier House while you're doing so.
Support refugees
One of the major goals is to Double the Quota, and the Doing Our Bit website lists a few ways you can help that campaign. They have a brochure that explains the cause and ways to assist in great detail (it's a 78-page PDF, but worth the read).
Perhaps the most direct way you can help refugees is to volunteer in various ways. Bringing more refugees to New Zealand is vital, but it's only the first step, and helping people who have escaped horrific circumstances adapt to a strange country is not easy. If you have the time and spoons to make a major commitment, the Red Cross's refugee support programme is always looking for volunteers. In Wellington, Porirua and Lower Hutt, Multicultural Learning and Support Services provide language and employment coaching, while ChangeMakers Refugee Forum provides support, research and advocacy. Both are always in need of donations, and you might also have specific skills that could help them.
One delicious way to help out is by ordering lunch from Pomegranate Kitchen. They'll deliver to your workplace, or provide catering, and in the process you'll be helping new Wellingtonians gain local work experience, build community connections, and share their diverse cuisines.
Resist local fascism
Wellington's supposed to be a liberal bubble, but fascists are everywhere. Occasionally the National Front will crawl out of the rotten woodwork and rally at Parliament, and they'll be feeling emboldened right now. Even if you're not into punching nazis, there are many ways to derive them of oxygen and the legitimacy they crave. If you see neo-nazi flyers, posters or graffiti, get rid of that crap (there are rumours that such posters overseas sometimes have razors hidden underneath them to prevent removal, which may be an urban myth, but be careful anyway). If you see anyone wearing racist messages or white supremacist regalia in a bar, let the staff know and see whether the bouncer can let them know in no uncertain terms that they and their hate are not welcome. Free speech stops when you start advocating genocide.
Take care of yourself and your friends
All of this is frightening, exhausting, and in some cases dangerous. Use whatever resources you have (time, money, energy, connections), but don't overdo it. Keep a close eye on how your friends are holding up, offer support where you can, and ask for it when you need to. Some of us are more directly affected by this global disaster than others, but together, we can fight.