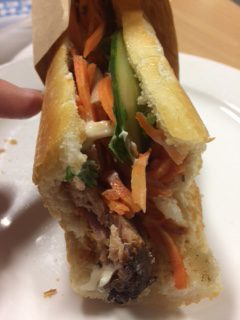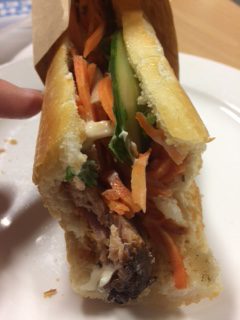 There's been an explosion of Vietnamese places to eat in Wellington in recent years and we are definitely not complaining about that. But with so many options, how do you choose where to go?
For this post, I'm going to compare two places that are right by each other on The Terrace. Both are around $8 and offer delicously crusty baugettes. But I often walk past Nam D at 43 the Terrace and laugh at the queues. Suckers, don't you know there's better Bánh mì to be had two doors down without the crowds?
A disclaimer: I don't like pâté. So I don't want it on my sandwich. If you do like it, however, you might prefer to go to Nam D where it's offered as standard on all of their sandwiches. Wraps & Rolls , meanwhile, only offer it on their traditional pork option (as opposed to the grilled chicken, grilled beef, grilled pork or braised pork). And Nam D do also put homemade butter on their rolls, and Lorde knows I love butter.
But while they heat the bread with the butter, Nam D doesn't cook their meat fresh so it's served cold. At Wraps & Rolls, they'll grill your meat and have you out the door in the same amount of time it takes to reach the front of the queue at Nam D. And they'll put chilli sauce on your order, instead of throwing in jalapenos.
Plus, if a sandwich isn't enough, you can grab some of their summer rolls, or deep fried goodness in the form of chicken karaage or spring rolls from the cabinet. Meanwhile at Nam D, their specials of the day including things like prawns will be piled up on the counter. Sure they may go fast, but wouldn't you rather that your seafood was kept chilled?
Nam D has the advantage of being eat-in, and offering smoothies and Vietnamese coffee. And it looks prettier, all sleek blonde wood and artistically piled-up cans. And you can get a longer sandwich rather than just extra fillings if you wanna upsize. But for me, Wraps & Rolls is the winner on the day. Feel free to have at it in the comments and tell me how wrong I am though.