Preview: The Swimmer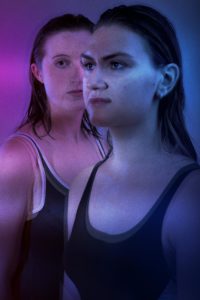 "The Swimmer" is a story of love between two young women who are both professional swimmers. Despite their love for each other their story is not simple. Anna's mother is deeply involved in her life and she works tirelessly to shape her daughter to be the successful swimmer she never was. She will do anything to make sure Anna does not stray from the path which she imagines for her.
Smoko Company is a South American theatre company founded by Manuel Saez. They  answered some of our questions about their new production The Swimmer.
"Smoko is a new theatre company here in Wellington created by Manuel Saez last year before the Fringe Festival 201.  We all come from different artistic and cultural backgrounds which has made the process very interesting and fun. Everyone has added something into the mix. Our perspective is quite contemporary. Chile has a big theatre-arts culture and in Latin America we think Chile has always been a big artistic incubator, especially Santiago where is where we come from. We all have in common the love for theatre and the need of creating art, telling stories and sharing our work with the world.  We all met here in Wellington (not at the same time) through people we all have in common so we feel very lucky to have such a great group of artists on board putting their talents into this show. There are 6 people in total working in The Swimmer : Manuel Saez (Chile) scriptwriter and director;  Camila Fernandez (Chile) marketing and production; Anastasia Davis (Russia) actress; Kassie McLuskie (Wellington) actress; Meron McCardle (Wellington – Whakatane) Actress; Pilar Fallas (Costa Rica) production assistant.
The Swimmer started 2 years and a half ago with an investigation about the life and routines of high performance athletes. Manuel started wondered what happens inside the mind of those athletes that have to postpone any personal dreams or desires in order to devote to their sport. This research was the foundation of The Swimmer, which is a story that talks about a young athlete who is conflicted in between becoming the professional swimmer her mother always wanted her to be, or leave everything behind for love. It's about making difficult decisions between what you want to do with your live vs. what other people what you to do with it. This story is a powerful drama that can happen to anyone everywhere in the world; that is what makes this story so meaningful.
We would like the audience to think about how true we actually are with our feelings, and how much are able to lose for true love. The Swimmer is about what we "have" to do in opposition to "what" we want to do, and the cost of it. Our life decisions have an impact on others, and that is what we are going to show though this story. There is a mom, a daughter and Tabatha, three lives that are about to change forever. It is a powerful contemporary drama, 60 minutes filled with emotions totally worth watching. The audience will see the 24 hours before a life changing incident. We are stepping away from how stories are told in a traditional way – we cut scenes in a cinematic way so that is definitely a new approach in storytelling. The technique used for this play is called Cinema action of the scenes, which is a film editing approach used in contemporary theatre. Our cuts are fast and sharp, this will make the audience be at a 100% in from start to the end."