Bike share comes to Wellington
Around town in the last few weeks you may have noticed some small black and green bikes with signage on them. These turn out to have been set free on the town by Mighty Share (a.k.a. MTShare), Wellington's (if not New Zealand's) first dockless bike sharing scheme.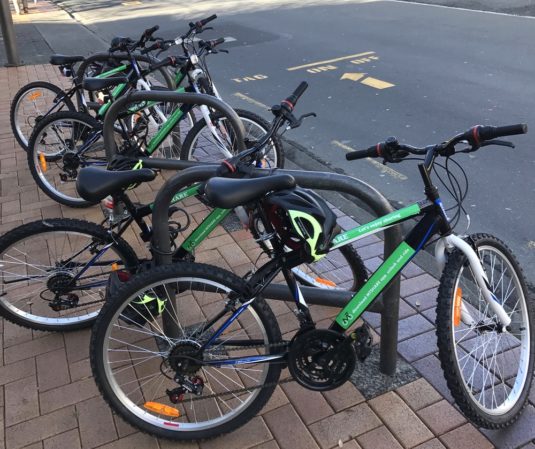 These kinds of bike-sharing schemes have gotten very big overseas, very quickly: instead of being tied to special stands, the hire bikes are just scattered around the town and may be unlocked by a any potential rider who has a mobile phone and an account with the bike share scheme.
The idea first originated in China and has spread to many other countries in the last six months or so, not always with uniformly positive results.
Here in Wellington though, the launch is a bit smaller, with 18 bikes of a fairly basic quality, but at least equipped with a wide range of gears as befitting our landscape. At the moment usage of the service is free; and helmets are provided (though this latter point is not without a certain ick-factor, YMMV).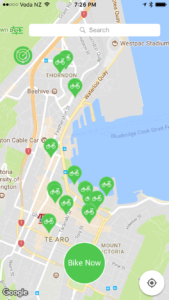 To use a bike you first need to register yourself on the MTShare app (iOS and Android versions, naturally; and oddly the confirmation code comes from a completely different domain that also hosts a poetry website).
Each bike has an ID number attached to it; and you enter this number into the app to receive the code for the combo lock. You tap an onscreen button in the app to "start" your ride, and again to "stop" your ride; with your last GPS co-ordinate becoming the location used for the bike so the next potential rider can find the bike on the app's map.
The bikes themselves are quite rideable, though small, and the seats aren't easily adjustable. I am not a big person but I found the seat too low to be comfortable – it's doubtful that anyone over about 175cm is going to find these very practical to ride. And on the bike I tried the drivetrain was a bit rattly and not terribly smooth running.
But for a quick dash from the library (I was late getting back to work after lunch!), across the waterfront to the nearest bike rack close to work it went quite well – but I'm not sure if I'd take the bike on the road unless I have a tool to raise the seat a bit.
This all raised a few questions for me so I got in contact with Edward, one of the owners of the scheme, and asked him (quite) a few questions.
Did you build the app platform yourself, or did you buy it in?
MTSHARE was designed and developed in-house. We spent months studying similar apps from around the world, adding the good bits to our app to create a product that we believe is easy on the eye and easy to use.
How will you avoid some of the problems seen overseas?
First of all, we think it's unlikely that we have such heated competition here in New Zealand. Secondly, we currently lack the funds to flood New Zealand streets with thousands of bikes. 🙂 Thirdly and most importantly, we believe organic growth based on demand and public acceptance is healthier than crowding streets with bikes, as awareness of our service grows we will work with local businesses and councils to rollout more bikes.
Currently the service is free. When do you plan to start charging? 
We will try our very hardest to keep the service free. We are working with local businesses to keep this service sustainable and commercially viable. The next batch of MTSHARE bikes will be branded.
What happens if there's a technical issue with a bike?
The iOS app has a Report Issue function where the user can select from a list of issues and send us a message. A user can contact us from inside the app on the Android version. We have plans to add functionalities for a user to rate the previous user's behavior.
The bikes are quite small.  Will you be getting bikes that are bigger and more adjustable? 
The next batch will be 26-inch with adjustable seats. (Note: in a later email Edward mentioned the supplier was having difficulty with the adjustable seats, but he did say that the next batch would have baskets, which was another feature I thought would be a good thing.)
What's your opinion about helmets? Do you think that having to provide helmets for your riders is a good or bad thing? 
Health and safety is our number one priority hence every bike comes with a helmet. As people become more aware and familiar with our service, they can choose to use their own helmet or ours.
Why are some bike icons in the app blue and others green? 
The green ones are available bikes. The blue (yellow on Android) ones are currently in use. If you found blue bikes not in use, it means the last user forgot to finish the trip in the app.
Lastly, one of the attractions for the big big schemes overseas is the location data that can be collected on people. What do you do with the data you collect on MTShare users?
Not sure yet. That's definitely something we can think about in the future. However, we don't have enough bikes to accumulate enough data.  The data shows there are already some regular users who ride our bikes to work almost every day, so we are very excited! We've been in contact with the Wellington City Council. We hope our data can assist their urban planning and we will add functionalities to let users to register request for bike racks.
---
Thanks to Edward for being so accommodating of all my questions.
This is a nice, low-key start to this kind of bike sharing in Wellington. It's true that other more expensive systems overseas have bluetooth connections to the bikes; onboard GPS; specially built extra robust frames with unflattable tyres etc etc but Edward and his co-owners have tried to take a slightly more modest tack, at least initially.
Meanwhile, I'm looking forward to trying some of the larger model bikes that are coming (stowing the provided helmet in the basket and using my own!).