WOAP 2017: Portlander
The Portlander at the Rydges Wellington is well-known for its beef – they are a steak restaurant after all. So of course their newish head chef decided to do a chicken burger for Wellington on a Plate, because it was his chance to do something different. I was lucky enough to be invited in to taste The Free Bird in advance, for free.
Just to be upfront, obviously sitting chatting with the marketing manager and Executive Chef Tim bringing you dishes is going to be a slightly different experience from going in as a regular customer, but I've always found the service at the Portlander to be lovely and friendly, so I don't have a problem with just focusing on the food in this review. And what food it is!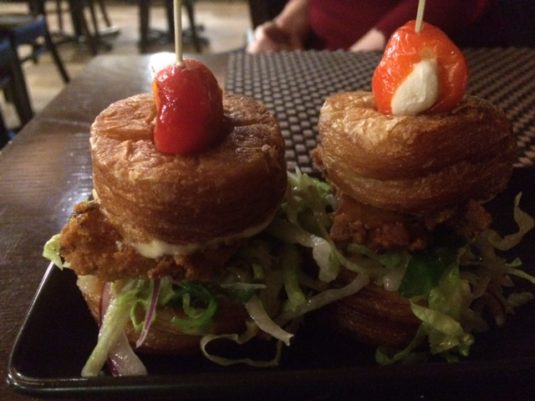 I have to admit, I was a little bummed to be given a mini burger, but I thought fair's fair, I get to taste it and that's what's important. Then I realised I was actually gonna try more things from their Wellington on Plate menu and was overwhelmed. The Free Bird is Quinoa and polenta-crumbed free range chicken with baby herb chiffoande, aioli and Ruth Pretty tomato chilli jam in Bordeaux doughnut bun, with buffalo agrias. I love the bit of sweetness from the donut, and the kick from the chilli jam. This is a burger that will dribble all over your hands, so maybe don't wear white to eat it. Portlander is a DB bar, so they don't pair it with a Garage Project beer.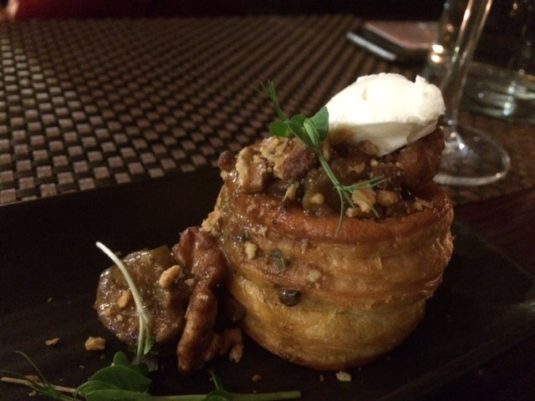 The next thing Chef Tim brought out for me to try was one of their entrees – Parkvale Mushroom Trio: Open pie with candied walnuts, Drunken Nanny goat's curd, Prana Greens herb salad (V). I think it will be served slightly differently in its full size, but this was like if mushroom vol au vents of yore were actually delicious. The standout for me was the amazing Drunk Nanny goat's curd. This is what I believe one of the very best parts about Wellington on  a Plate is – the way good chefs and menus will highlight amazing products from the region. You might not always be able to splash out at the Portlander or other restaurants, but you may be able to purchase the curd for yourself and use it in your home cooking. Or just eat it from the tub with a spoon. You do you.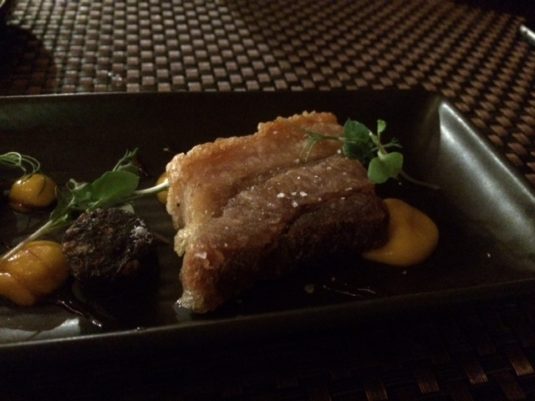 Next up was their other entree option – Free Little Pigs Pork Duo: Crispy belly, black pudding, carrot silk and Eddie's Cider Co. feijoa reduction. This is the pork crackling of my dreams – crisp & crunchy but yielding and unctuous at the same time. I was surprised how much I liked the black pudding too. I suppose it's basically just like any other sausage, though richer. I like how food trends are coming around to eating more of an animal than just the most popular cuts, though I have yet to develop a taste for offal. If we're going to eat meat, (and by we, I mean "me", mostly) it's good to acknowledge that yes, it comes from an animal and that blood is involved. And to make the most of every inch of it. This is a very rich entree, and I probably should have taken more time to eat the carrot silk, but then I was presented with venison and how could I think about anything else?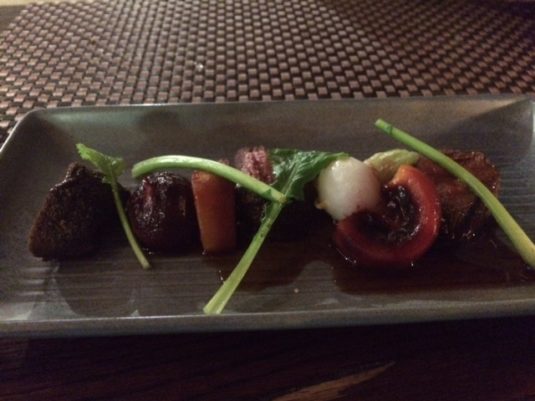 It was around then that the restaurant lighting dimmed so my photos are going to be even more not as good as some might take, but you're here for the words, right? This was Sous-vide wild venison leg with Spice Rack garam masala blend, beetroot, baby turnip, tamarillo. Now I've been to the Spice Rack to stock up on packet curries a million times (you should get some for your emergency kits too!) but I'd never think to put together a dish like this. Venison can be tough, but the sous vide combined with the hard sear made it a joy to eat, and the tamarillo was the perfect partner, a little sweet, a little tart, a lot tasty. If you come in to eat this dish though, you're going to have to make an awfully hard decision to choose it and not their festival dish, the lamb…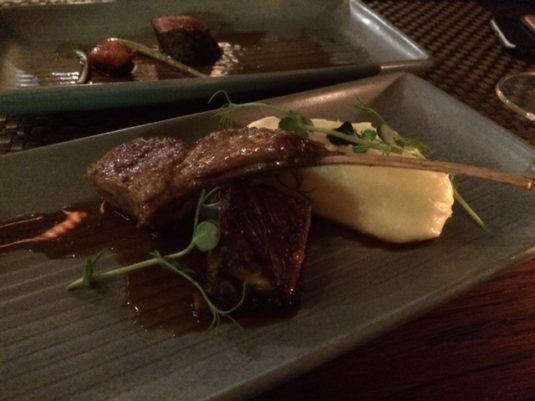 Lamb shoulder is my absolute favourite cut of meat, so I was in heaven eating this Palliser Bay Station lamb rack and slow-cooked shoulder, Prana Greens pea tendrils, black garlic, potato purée.  I was also stoked to learn that the black garlic comes from Marlborough though less thrilled to know it's similar in price to truffles. Don't feel any shame in picking up the bone to gnaw off the last of the goodness, they expect it. Just one thing – I am as salty as a sailor and will often add salt to my meals at restaurants, to the horror of chefs I'm sure, and I found this one a little on the salty side. I suspect that's there to make the lamb fat render so tastily. The potato would have been a good foil, but I was reaching maximum capacity so I didn't eat much of it. I know, I'm horrified at myself too. But I have never managed to fit in a dessert at Portlander before.  Until now.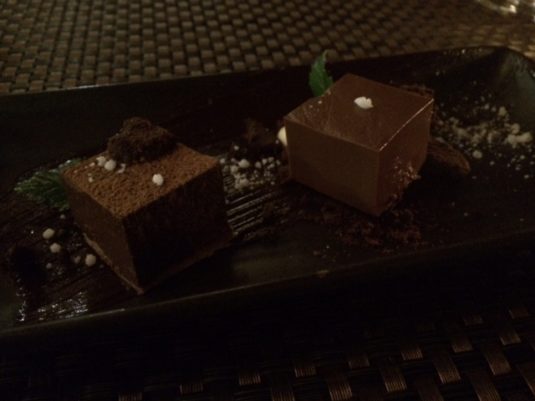 This was Wellington Chocolate Factory tastes and textures: tart, jelly, paint, rocks, soil.  The idea of chocolate jelly weirded me out a little bit – I guess I'm just used to fruit jellies, but it made sense in my mouth, all smooth and jiggly. The tart was even better, so rich it felt like a black hole from which light will never exit. I reckon this dessert would pair really well with a whisky or a strong liqueur but if all you have on hand is the delicious Pizzicato Pinot Noir from Coney, well that will do just fine. But how would you choose between this dessert and the other option???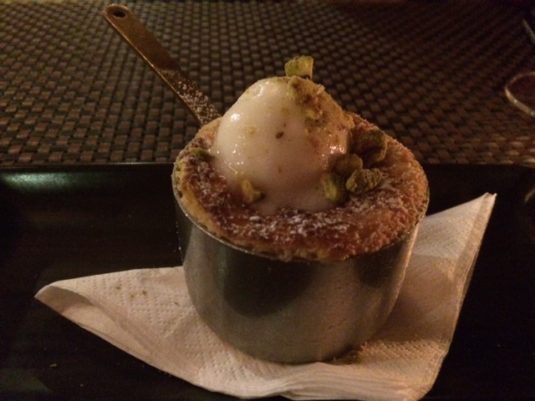 This, Arobake brioche bread and butter pudding with green cardamom custard and Zelati apple cinnamon gelato, is hands down the best bread & butter pudding I have ever eaten. It is perfect eating for cold weather, and I am still sad I couldn't finish it. The cardamon is really prominent in the custard, the top is nice and crunchy, the gelato gives the dish the lift it needs and honestly, it is a great big hot hug for your insides. Watch your hands on the pan, but dig in.
Last year during Wellington on a Plate, Portlander sold 2800 burgers. They're hoping to do 3000 this year. Make sure you make a booking, because if you're into meat, you won't want to miss this.