WOAP 17: wine and whisky
It's day five of this year's Wellington on a Plate and the city seems to be buzzing. So let's get down to it. Here's two events I went to on Saturday.
Tapas & Tastings with Matahiwi Wines at Avida Bar
Woodfire & Whisky at Sterling
Tapas & Tastings
I wrote about this last year, which maybe I shouldn't have. I shouldn't have told everyone how good it was before I secured my own tickets for this year. I missed out in the first allocation  (rookie mistake: I stupidly went for tickets to an event that had multiple sessions first instead of this one-off) but I managed to get them when more went on sale. Phew. Dammit, I'm telling you again how good this is. When will I learn???? But seriously, I really recommend you go next year. Avida does great food and Matahiwi make amazing wine. What's not to love?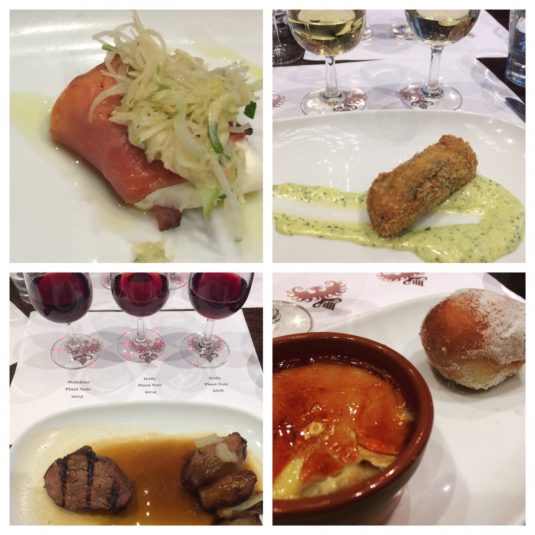 So you try seven different wines with four mini courses. You get to learn about the wines. You get a chance to win prizes in a quiz. It's generous hospitality with wait staff coming around to top up glasses "because the bottles are open anyway". The food is delicious. The room has a great buzz. You don't have to know a lot about wine to take part – you'll learn along the way.  You can then order casefuls of wine at discounts (if you want to – there's no hard sell). It's a lot of fun. And it's only $50! This is definitely the best value WOAP event I've been to.
Woodfire & Whisky
After a nap, it was back into town and to Sterling Eatery for their Woodfire & Whisky event. Over on the WOAP site they're calling it "Whiskey" but given that we were drinking Scotch, I'm gonna lose the E (But did you know that if the country has an E in the name, it's generally "whiskey" ala Ireland and America, but no E for Canada or Scotland or Japan? Cool story Jo. Actually on that, one of the whiskys we tried was Thomson from New Zealand, so I guess that is a whiskey).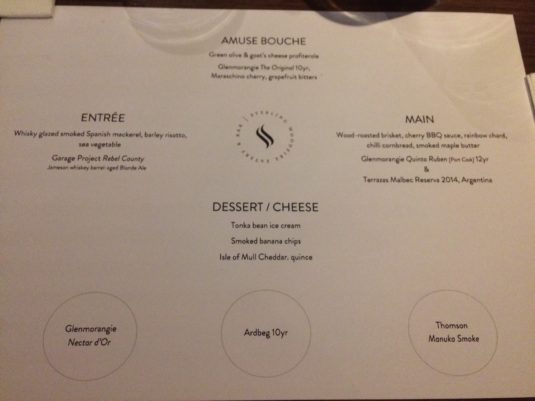 At $159 a ticket, plus having a drink (we were recommended to arrive around 6.30 for a 7pm start), and ordering additional whisky during the dinner course at $14 a glass, this was a pricier affair. But it was a thoroughly delightful time, and worth it, if you're prepared to accept that you're the bourgeoisie. Which clearly I am. I didn't love the mackerel course, but I could have expected that because I don't like very fishy fish. But I could write poems about the maple-whipped butter on the cornbread. It would go something like "Get in me now plz / I want to eat more of you / butter and whisky".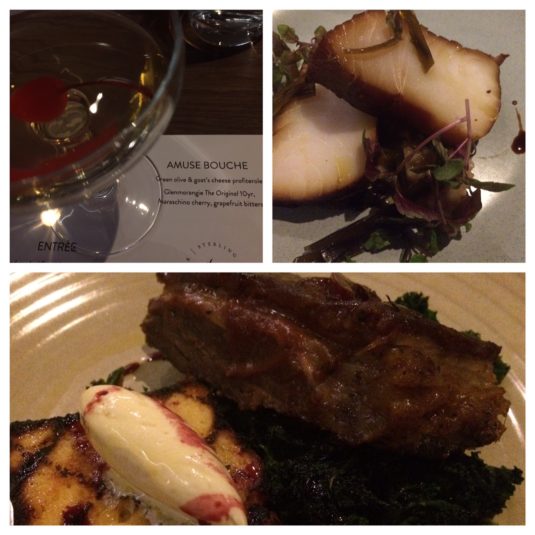 I was really impressed with the service at Sterling. The event was a sellout, and it's a medium big restaurant, but plates were coming out impressively fast for each course (as opposed to the dreadful Foxglove kitchen failures at their event for example). We didn't have to sit with strangers, which is nice. We had talks from Glenmorangie/Ardberg reps about what we were drinking, but the talks didn't go on for too long. I'm not a whisky buff by any means, but I didn't feel talked down to or lost, so it was pitched right for me. I learned that adding a few drops of water really can open up the flavours of your whisky as it takes off the alcohol burn.
The creativity in the food was really great. The only problem was trying to make sure there was still something left in your glass by the time the food came out (which we solved by ordering more whisky). The main was very generously sized and I was worried I wouldn't have room for dessert, but it turns out fresh banana chips are actually bloody delicious (more like french fries rather than those atrocities they put in muesli), especially when dipped in tonka bean ice cream (which is kind of like vanilla) so that wasn't too much of a problem. If they do a similar event next year – this was their first Wellington on a Plate event ever – do go along if you're a whisky fan. But pack something for heartburn afterwards.
The Lock