WOAP 17: Concrete, Glasshouse, Hillside
How are we all going with Wellington on a Plate then? As we tweeted today, there's no less than three alternatives to the official site in order to help you navigate your way to a burger (One, two, three). Maybe they'll be incorporated next year?
In the meantime, here's what I've been eating
Lock Stock burger at Concrete
Everything on the menu at the Glasshouse in the Thorndon Hotel
The Smokeaccino at Hillside Kitchen
The Lock Stock Burger at Concrete
"Smoked cheese and Rocket Fuel-stuffed Angus beef burger with coffee rub, candied bacon and tangy ranch slaw in a Pandoro bun, with fries"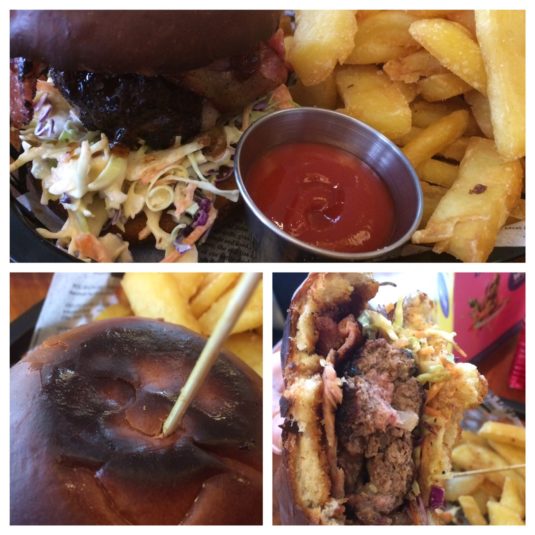 Everyone I saw at Concrete on Monday lunchtime was eating this burger, but I don't think anyone else's was as burnt as mine, alas. It's a shame about the bun's charcoal, cos the patty had a great flavour, and the slaw was good for breaking up the richness. This wasn't the easiest burger to lift and bite into, (it was definitely an extra serviette burger with juices) but it was satisfying to eat. I would have liked maybe a bit more of the cheese. But importantly: those were the best fries I have had in a long long time. You know how when you order chips sometimes there'll be a couple of extra crispy ones that you might end up fighting over? All of these chips were those chips.
Concrete has comfy tables & chairs along with its high tables, and the waitresses were lovely. It's a shame I didn't see any newspapers or magazines for solo diners though. Oh, and the toilets are really weird though, like you're peeing on a yacht. And just so you know and don't spend ages looking for the tap, you'll need to push the wooden lever in the mantle to get the water to run to wash your hands afterwards. You're welcome.
Glasshouse Bar & Grill at the Thorndon Hotel
Steph and I were invited along by the lovely new marketing manager at the Thorndon Hotel by the Rydges to come and try out their Wellington on a Plate menu, so of course we did. They're a DB bar, which means no Garage Project to match with burgers. Instead, they've been really working on their Tuatara offerings, and will suggest a beer to match everything you eat.
I've eaten at the Glasshouse before, both at their invitation and also on my own dime because it's in a really handy location for me, and what I really like about it is it's very friendly, quiet (usually), and there's room to spread out your newspaper. They primarily serve a hotel guest audience, some of whom will stay 2-3 nights a week, so they serve comfort food, but with a focus on local ingredients (brands are name-checked on the menu). I think the chef really likes the opportunity that Wellington on a Plate brings to do something different. So this is what we ate:
Festival dish: Smoked pork and pūhā croquette on hāngī-style kūmara purée, pāua meatballs, black pudding and white wine cream
Burger: That Chick's a Real Jerk – Chargrilled jerk chicken thigh with bacon, pineapple salsa and Baxter's Original chipotle mayonnaise in a Pandoro milk bun, with shoestring fries and stuffed jalapeño
Dessert: Sausage Roll – Choux pastry filled with Gelissimo Whittaker's Peanut Slab gelato with cherry sauce
The Dine Menu also gives you the option of a Beef Wellington, which I have eaten and enjoyed before, but it's kind of cheating, because they have that on their menu normally.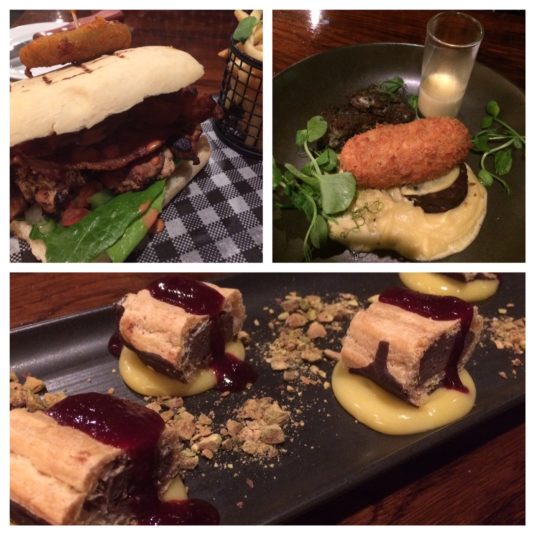 The chef sent out Steph's hangi dish with the pāua on the side, cos I'm mildly allergic to shellfish, so happily I got to try it. There was incredible flavour in the smoked pork croquette. I must admit I have never actually had a boil-up, so I don't know how it compares, but I did love this, and the puree too. Steph says she's not a huge fan of the flavour of pāua in general, but thought the fritters were well-made. Meanwhile, back on my side of the table, the chicken was super juicy, and there was so much of it in the burger. I might have liked it a little spicier, but I accept that they do need to play safe in the Thorndon land of public servants. The salsa gave it freshness to balance out the bacon. The bun sadly never stood a chance against the juiciness of the chicken though, and as it fell apart the flat board it was presented on (combined with my lack of skills, no doubt) meant this was a multiple napkin event (oh yes napkins, because they're cloth). Shoestrings are never my favourite fry, but that chargrilled chicken though, that was the business. I hope it comes back in the near future, maybe on rice?
Meanwhile, speaking of public servants, the sausage roll dessert! Excellent! I think this was a logical followup to their peanut butter & jelly sandwich dessert they had last year, and it was fun. The pistachios scattered across the plate gave a good contrast to the Peanut Slab gelato, which was very very tasty.  I really enjoyed eating this, but thought maybe there was a bit too much lemon curd and cherry sauce for my less sweet palate – Steph cleaned hers up for contrast.
The Smokaccino at Hillside Kitchen
Smokaccino burger: Smoked Italian sausage with brisket, bacon, red-eye mayonnaise and pickles, in a dinner roll (NF). Matched w Garage Project Hazelnut Bruin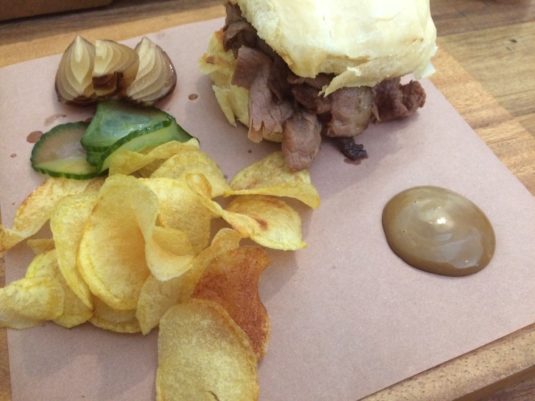 This burger. Oh sweet Lorde. Oh my stars. This burger. Hooooooooly. The brisket was so thinly sliced it seemed to melt in your mouth, while the sausage was really satisfyingly chewy. Having the pickles on the side was ideal for being able to control your own level of bitterness, and the bun was absolutely perfect. This burger was ideal to pick up and was the perfect level of moist to eat without making a mess. But that redeye mayonaise, that was truly the crowning glory. I've just looked it up cos I didn't know what it was, and it's mayo made with coffee and sriracha. I want a huge vat of it to swim in please. I want to spread it on everything. The burger went incredibly well with the delicious Garage Project Hazelnut bruin too. My only complaint is now my burger is but a memory. I might have to go back. I think this is going to be very hard to beat. Don't forget Hillside is pretty tiny, so remember to book. Hurry up, do it now.