Project Glow on the Runway
A few weeks ago we previewed the garments and accessories created for Project Glow, a fashion competition for reflective gear. Last Saturday evening we attended the Wellington show (the Auckland show is on Saturday 26th, tickets here).
Right now it's hard to compete with all those luscious burger photos here on The Wellingtonista, so we think we need to lead this piece with the bestest model in the whole darn show: Daisy (photo stolen from the Project Glow Facebook feed).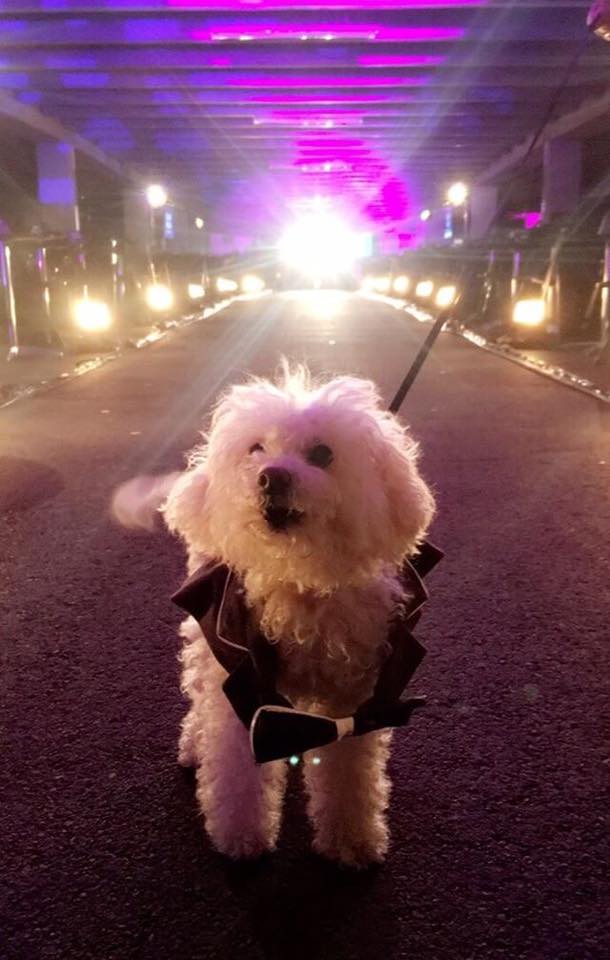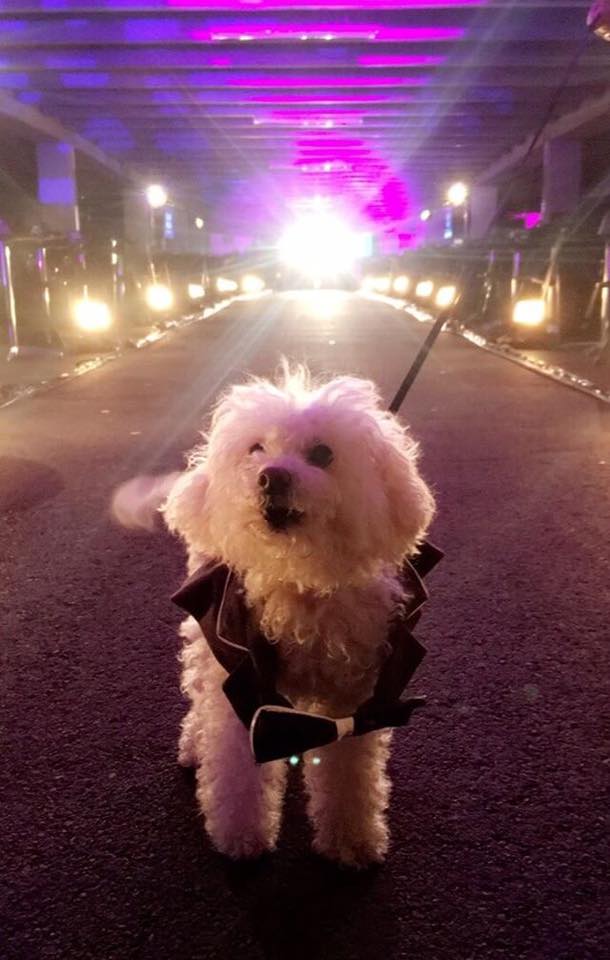 We're sure you will agree that being visible is important for all members of your household, and so it was great to see pieces on show for everyone.
Some of the children's wear were among the most memorable, with a very cute reflective dinosaur hoodie and a backpack that converted into reflective butterfly wings being two great pieces you could imagine being popular among parents and the small people wearing them.
We were personally more keen on pieces that looked good during the day, but whose secret reflective super-powers only became apparent at need (one of us uses a reversible jacket, fluoro on the inside, for cycle commuting – a great example).
Our favourite piece embodying this was the embroidered up-cycled denim jacket with knit sleeves that we believe might have been a category winner. You'd wear it all day long, and then when you had to cross the road in the dark that evening, a driver would see you glowing in their headlights at some distance away, keeping you safe without compromising your style.
Other pieces made reflectivity a central feature of their design. Some used large panels cut in interesting ways, like the cloud-shaped cape design entered in the competition, and the commercially available riffing-on-Mondrian cycling vests.
But there also were some well made and highly worked pieces that just glowed like the sun in the dark, which to us lost some of the opportunities the materials presented.
It became apparent that part of generating a usable patterned design that works in bright lights was to space out the reflective areas sufficiently so the glow didn't wash out the pattern the designer was attempting to create.
Thus one of our other favourite pieces, a vest made up of tens of palm-sized diamond pieces arranged like plate mail (the ultimate in protective clothing!) and joined together with metal rings, spaced so when the light hit them they were all still seen individually. For extra interest, only some of the diamond pieces were actually reflective, which was a nice touch. The designer of this piece (Sheryl Wong) was sitting just behind us, so we got to share in a little of the excitement when she went up for her Best Accessory prize!
We also approved of some simple designs which were effective and could easily be used by people of all sizes. We liked a simple sash that went from one shoulder to the opposite hip; a bag with a cross; and a belt that had flowers of reducing sizes hung from it. There was also a bag cover that was simply an elasticated, reflective net. This was practical both for convenience – it wouldn't take up much space – and ease of use. The commercial possibilities of all these pieces were apparent.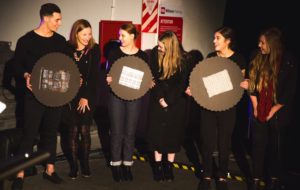 There was another section for fabric swatches about 20cm by 30cm (The Fabric Innovation Award).  These mostly had reflective yarns woven into them creating a new dimension to the pattern when they were lit up.  Others had small pieces of reflective material attached to the surface of the fabric. We used a phone torch to see the patterns before the show and some of the chequered patterns lit up very effectively.  It was a bit difficult to see these on the catwalk so for next year we would advise checking them out beforehand.
Unfortunately the show could have been better presented. The competition categories were not announced but just shown on the screens afterwards, which made it a bit confusing to follow what was going on. Although we were taking notes it was all but impossible to catch the names of the designers and the categories they had won or been runners-up in (some of these are now listed on the website, while others won't be announced until after the Auckland show). And it was not always obvious when the pieces shown were in the competition, and when what was being modelled was from one of the many (but admittedly quite cool) reflective fashion sponsors.
But in the end, the fashion shone!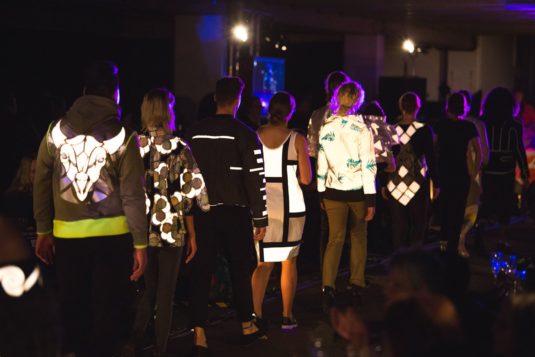 All in all the show had something for everyone and it would be nice to see more of the designs in production for purchase.