Review: That Bloody Woman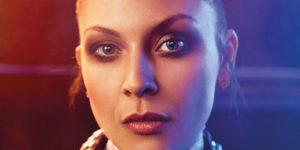 Kate Sheppard, "the leading light of the New Zealand women's suffrage movement" tells her story in this rock musical by Luke Di Somma and Gregory Cooper. Directed by Kip Chapman, (with Jennifer Ward-Lealand this season's Rehearsal Director) the show is terrific.  All the elements of the best musicals are here – a well constructed dramatic arc, catchy and affecting songs, brilliant performers, backed up by strong design choices. One song I'm angry, the next I'm trying not to ugly cry, then I'm in tears from laughing.
The Gang Ensemble – Amy Straker, Phoebe Hurst, Cameron Douglas, Kyle Chuen – are energetic, fun, and use their voices well in the different songs styles. (It seems redundant to say they can sing, but WOW, they can sing. I appreciate that they get to be showcased individually as well as show off their terrific harmonies.) They're on stage first as they set up for Kate Sheppard. There's a lot of responsibility riding on performer Esther Stephens' ability to connect with the audience. No worries though because she's fantastic.  Her voice is clear and sparkling and she effectively shows us the emotional journey of her character. Geoffrey Dolan plays Richard Seddon, the visible villain in this piece. Blustery and pompous- he's perfect. All of the singing cast are committed to the emotion of the show even when they're dancing (wonderful musical choreography by Olivia Tennet.) They're backed by a skilled band. Musical director Andy Manning is a bit hidden behind his keyboard while Tim Heeringa (guitar), Emma Hattaway (bass guitar) and Cameron Burnett are visible but not intrusive.
Costume designer Lisa Holmes dresses Stephens in pale clothes and elegant hair. Her costumes are often wonderfully textured and are linked to the style of the time. For the ensemble, their inspiration is punk styles – layers of denim with rips, and mesh, studs and straps. Richard Seddon is appropriately booted and suited…I'm not going to spoil what he wears for his first appearance. Original lighting designer Brendan Albrey set the foundation which Abby Clearwater has adapted  for the Opera House space. It keeps the focus where it's needed while highlighting the excitement and drama of the show.
Kate Sheppard had radical ideas for her time that still resonate today. "All that separates, whether of race, class, creed, or sex, is inhuman, and must be overcome." After the show I heard people talking about the petition and the election and the events of the show as real and immediate concerns. This is a testament to the cleverness and affect of the production.
I laughed, I cried, I cackled, I shouted. Marvelous.
You can get a discount by using the promo code: rockthevote (The discount is available to anyone and everyone who believes in equality – get in!)