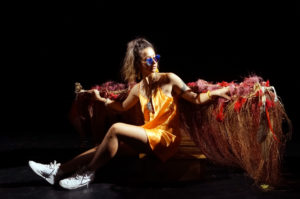 Poto Manawa has a new flat. She took a quick trip to pick up a few things from her Mum's place…and now her relatives won't stop phoning her. They want her to come to a whānau hui. She's reluctant to return to the homestead although she can't quite remember why. Until Paia comes along to jog her memory…
This neat play is performed by sisters Trae Te Wiki (Poto) and Tial Te Wiki (Paia) along with Reuben Butler on music. Trae Te Wiki is an expressive physical actor communicating her character's emotions and memories through graceful movements. She has a beautiful singing voice. Tial Te Wiki is almost the physical opposite, her physicality is all edges and impudence. She has excellent comic timing and shifts well to serious storytelling. Butler's music and sound effects support the story and his cameos are delightful.
The set by Andrew Brown is gorgeous. Backlit fabric screens become storybook pictures, dried autumnal leaves add a touch of magic.  Lighting design by Zoe Higgins transforms the space from place to place and reinforces the emotional beats well. Director Neenah Dekkers-Reihana balances the many humourous and serious moments in the play, drawing out some great work from the actors.
This is a funny play that seriously explores intergenerational trauma and its consequences.