A sausagefest with Harrington's at Logan Brown
As should be obvious by now, we love a free dinner here at the Wellingtonista. So when we were invited by Harrington's Smallgoods to dinner at Logan Brown, of course we said yes. It ended up being one of the more interesting dinners I've been to in my life so this review is going to be possibly more in my head than it should be.
First – the sell. Harrington's is launching a new look and focusing on the consumer market, and one way to do that is through the use of influencers. As much as I hate the term, I understand it. I go eat a fancy dinner, you read about it, and then you go to the supermarket and choose to buy the products because I said how delicious they were – or increasingly, because you saw a good-looking photo of them. But also, you make the choice because I tell you the good things about Harrington's – that they use free range pork & beef, all from animals raised in New Zealand, and products are made locally in Miramar. That's how the sausage is made. And what delicious sausages they are.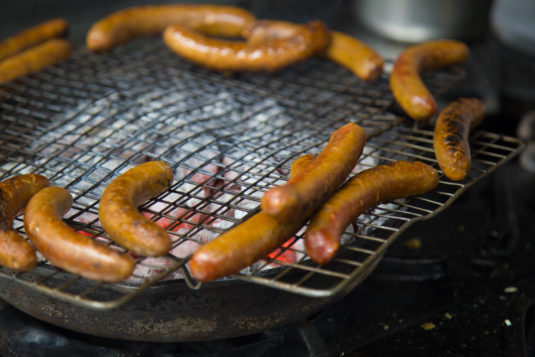 I took my mostly vegetarian lesbian friend Surly along, because who's better at a sausage fest? We were warmly greeted by the lovely lovely women from the PR agency putting the do together. I was thrilled to discover that my friend Emily & her husband were there too, covering the event for the Spinoff, along with a writer from Capital, an Instagrammer & and her partner who owns a cafe.  Dinner was served in the private dining room, up a tiny winding staircase at the front of restaurant. It felt like walking up a castle turret and it must be a nightmare to carry plates up. I switched place cards with Surly to avoid sitting next to a certain vintage food critic. I shouldn't have worried though because he was pointedly ignoring me. Instead I found myself next to one of the players from Dirty Politics. Ahh, Wellington.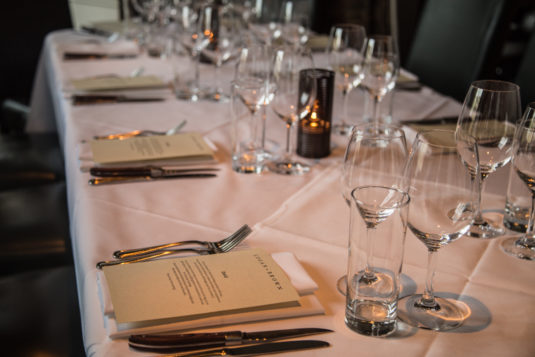 Food is of course extremely political. Just consider canned tomatoes, for example, or how some people feel the need to demonise the poor as if they're not capable of making their own decisions according to what is available to them. It's why I support Kaibosh to allay some of my middle class guilt. And it's why I can't just write "everything we ate was delicious" as my whole post. But everything was delicious.
The charming Harrington's Honcho Angus Black talked us through the history of Harrington's, and how he'd moved from cheffing to sausage-making. Logan Brown chef Sean Clouston came up to greet us, and talk us through the menu in advance. It was a four course celebration of all things sausage, using Harrington's in everything but the dessert. The first course was a selection of many different little treats.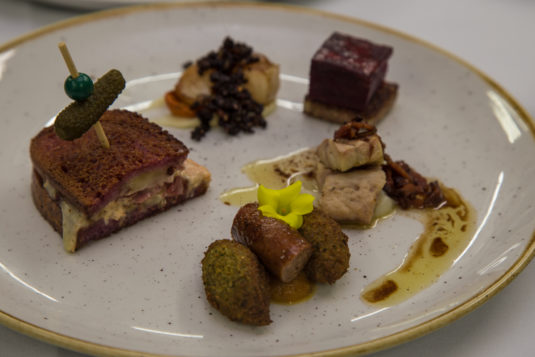 The mini reuben was made with purple potato rewena bread, and it was absolutely divine, crunchy and salty and cheesy. I always think that I won't like black pudding, based purely on the fact that it's described as a blood sausage and I'm one of those annoying people who don't like to think where their meat came from before it was on my plate. That's ridiculous though, because as a crumb it's delicious, rich & earthy. The slice of white pudding under the beetroot gratin was even more tasty – and that's not just because I find "milk & pork" a more palatable-sounding combination than "blood & beef". Eel was another pleasant surprise for this Pākehā. If you ever want to eat something you're not sure you'll like, have a great chef cook it for you – if you have the chance. I know not everyone gets the chance. And that's a shame. It would be wonderful if good, interesting food could be more accessible to others.
Speaking of accessible, we talked about how now that Logan Brown is running Bellamy's, it's become more of a destination restaurant for lunches. Food is a great gateway to becoming more politically engaged – though Bellamy's is pricey so it's not going to reach the most disaffected. But it's good for the politicians to be surrounded by the people they're representing, rather than being cloistered away. Although now I'm reminded of John Key's quote about how he meets everyday people all the time, in the Koru Lounge, so…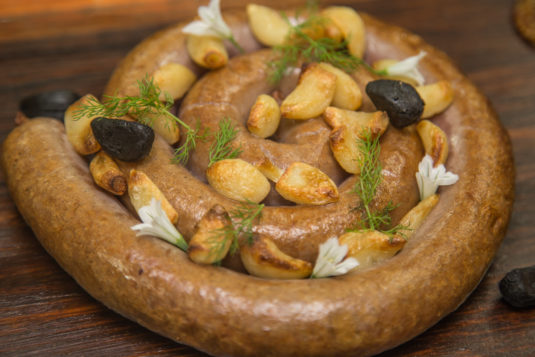 Speaking of massive coiled turds, it was onto the the next course. Noah served a Rippon Gamay in massive glasses. The Toulouse sausage, white and black garlic, pickled red cabbage and mustards was a thing of beauty, lightly spicy. I had four inches, then I took another four inches in. I could have taken a whole foot if I wasn't saving myself. The housemade sour dough bread was beautiful too, though it didn't seem like anyone else was eating any. But it wasn't that people were swearing off carbs. Down the table, the restaurant critic saw fit to correct someone as he spoke about mac'n cheese. "Actually, it's macaroni" he sneered. Cool story, bro.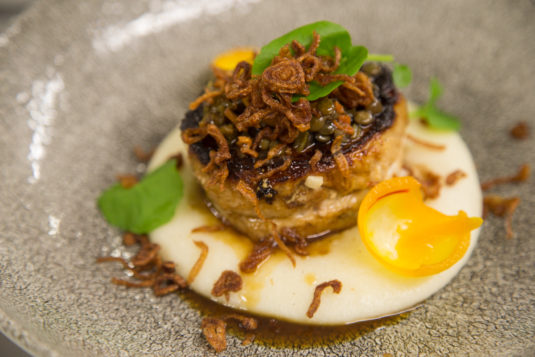 We ate our milk-braised porchetta, gorgonzola polenta, green lentils, alliums with the most incredible almost spicy Ironclad Franc blend from Man'o War on Waiheke. I only just managed to restrain myself from stealing other people's wine, it was that good. It went amazingly with the rich pork that fell apart with the lightest touch of a fork, cutting through the fat.
A conversation note about scent & memories led to Surly telling a ridiculous story from her Goth days. "This is what happens with social media" said the restaurant critic disapprovingly, in what he may have thought was an aside. I get it, it can be scary when kids come and play on your lawn and it seems the world is moving on without you. I share the feeling because I still love blogs and RSS and Twitter while a lot of food coverage has moved a lot to Instagram, and I have feelings about that. The one food Instagrammer I enjoy is Titty Eats, as he actually reviews what he's eating, though I'm not 100% sure if he pays for it all or not (I'm fine with getting food for free, but I would like the transparency there).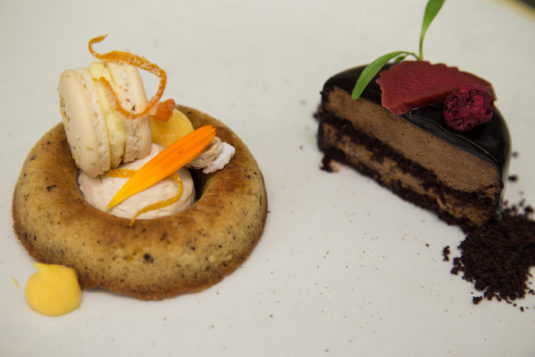 Sean came back to ask if we were having our desserts with whisky. Damn, that would have been good. Don't get me wrong, the Noble semillion from Pegasus Bay was amazing, but for my tastes, I prefer a sweet wine with a savoury food, and a savoury wine with a sweet food. Sweet on sweet isn't my favourite. I appreciate this is probably the most Shelley Bridgeman problem a person could ever have. The menu for dessert read "Sweet treats from Ingrid's cake tin" so I can't be entirely more specific about what we ate. There was rhubarb involved, and lemon curd, and hazelnuts. It was utterly utterly delightful.
When the table shuffled around, Steve Logan came to sit at our end. I was super impressed he could still remember staff from back in 1997. Wellington is a small world, and the hospitality world is even smaller.  We talked about whether Wellington on a Plate has become too burger-fied, as per some media, and the consensus was that it hasn't. Burgers offer an easier way into the food scene, and often at a more accessible price. I do wish though that more opportunities to sit down with hospitality legends like Steve were available to more people, without the hefty price tag of Wellington on a Plate events. The experiences that I've treasured the most across festivals is when you get to hear from the people involved about why they do what they do, and how they do it. To me that's what the festival should be all about. Hearing Angus speak about his kitchen career, and how very many people made the same joke that I did – that with a name like Angus he was destined for butchery  – and the care that Harrington's take when selecting the suppliers they work with, that's the really interesting part.
I'm more than aware of my own immense privilege in being able to go to more than my fair share of events though. It becomes a self-perpetuating cycle too – I'm interested in food, so I go to food events, so I get more interested in food, so I write about food, so I get invited to more events. That's why it's so important that there are fresh voices in the mix too. Madeleine Chapman's review of The Grove for example, is one of the best pieces of food writing I've read in a long time because it's not by someone who's been jaded by the experiences. Lorde save us from grumpy old men complaining that their napkins don't get picked up off the floor. I think I need to stop being greedy and send Emma along to the next fancy invitation we receive. But I would have been very sad to miss this dinner, because it was delicious, most of the people were really really lovely, and I'll probably never have another chance to eat in the private dining room at Logan Brown. Thanks for having me along!