Review: She Danced on a Friday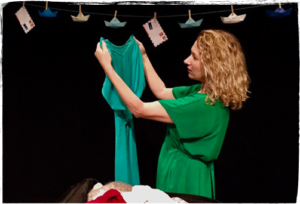 She Danced on a Friday is a spiritually evocative and heartbreaking play about a Hamilton murder in the early 1990s. Having only been in the country for four days, 32-year old Margery Hopegood was stabbed to death in a public toilet on the 10th of January, 1992. She wasn't here for an OE, but to meet some family friends – including the Salvation Army worker who helped put her up for adoption so many years previously.
However, she never made it.
Nicola Pauling – whose grandmother had organised Margery's adoption – takes to the stage in this one-woman show and utterly shines as a variety of characters in Margery's life. From Margery herself, to her birth mother, to her temporary mother, we're drawn emotionally through Margery's life from a baby in Hamilton until her death on her return. Pauling takes on characters with all the ease of slipping on a dress – sometimes characters change within one or two lines of dialogue, and each is as distinct and powerful as the last.
It's clear that the subject is very close to Pauling's heart – every line carries a certain authenticity – likely from the extensive interviewing and research put into this devised piece, and Pauling's personal connection to the story.
It is a gut-wrenching, emotional work – especially the moments when Margery finds her end to an acoustic version of Rod Stewart's I Don't Want to Talk About It (the last song listened to on her Walkman the day she died) and it will absolutely leave you in tears.
Though She Danced on a Friday may leave you with more questions than answers, it is an impeccably well-crafted work and definitely worth seeing on stage.
She Danced on a Friday is being performed at BATS Theatre in Wellington until the 15th of September 2018. Get your tickets from here!