Budburst is here to celebrate natural wines – win a double pass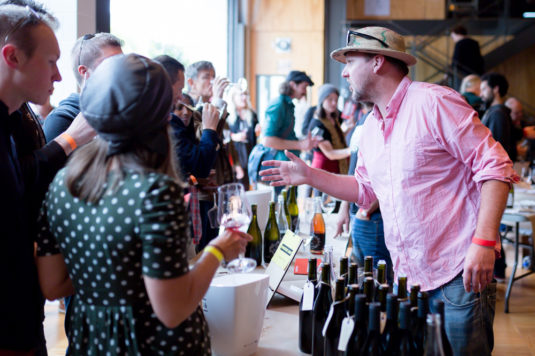 I like any event centered around wine, so I'm really excited about Budburst, coming up on November 11 – the country's only natural wine festival.
Natural wines, you say? What exactly does that mean? Well let's cut'n paste from the press release
Historically, the term natural wine is without a single definition. For the Budburst natural wine festival we consolidated a series of generally held  criteria including hand harvesting of organically or biodynamically grown grapes and limited interventions in the winery – wild fermentation, minimal use of new oak, restrictions on the permitted total sulfur and strict guidelines on additions, fining and filtration are all included in our festival standards. Leaving as much as possible to nature is the key.

One question a lot of natural wine producers get asked (normally by me, three glasses in) is if not using sulphur means no hangover. It does not mean no hangover. Don't ask that question. But DO ask other questions! The event is all about learning. From the press release again:
The producers who come along and the wines they show all subscribe to five main principles:
Wine starts in the vineyard: The festival organisers believe that natural wine cannot be made from  conventionally farmed fruit so requires all participating producers to verify that they grow their grapes organically or biodynamically

Let the time and place shine through: In the winery, they ask for minimal intervention, letting the quality of the fruit, site and season speak for themselves. Minimal intervention covers all aspects of the winemaking process so these wines are all vegan, for example.

Naturally delicious: We love delicious, well-made wines. Weird for weird's sake is not our bag, the wine also has to be good. Natural is the philosophy, quality is the aim.

Always learning, always curious: Education is at the heart of everything they do, the festival is designed to pique your curiosity

It's all for the love of wine: Budburst is a not-for-profit festival run by a passionate group of volunteers
What this might mean in your glass is that things might be tangier than you're used to. They may be a little cloudy. Your wines might taste even a little like ciders. There'll definitely be orange wine – no, that's not wine made from oranges. Don't worry – the programme includes bookable master classes so you can learn all about it.
The great thing about Budburst is that all tastes are included in your $50 entry fee. This means you can try all kinds of things and get some new favourites. Egmont Street Eatery is doing the catering, but I strongly advise making sure you have a solid meal beforehand, and don't be afraid to tip out wines you don't like. I mean, don't be a jerk about it, but wine makers know that not everything is to everyone's tastes, and that you might want to be sensible with your tastings.
Here's their video from 2016 so you can get a feel for things.
Now remember how I said we have a giveaway? I asked Budburst if we could give away some tickets, and they very kindly gave me a double pass worth $100 to give away. We'll keep it pretty simple – all you gotta do is be over 18, of course, and leave us a comment saying what your favourite wine is, and why. Get your comment in by 5pm Wednesday September 26.