Review: Woop Balance meal
Remember when we reviewed My Food Bag a bunch of years ago? We got approached by another company, and offered one meal. Unfortunately, they sent us shrimp. Have I mentioned lately in every single food review that I'm allergic to shellfish? Luckily I found a taker to make the dinner instead. Thanks Megan, take it away!
I have never tried a food box in my entire life. Being a backpacker, moving around quite frequently, I was never afforded the stability required to have regular meals sent to me. Cue my new friend Joanna, who is (unfortunately) allergic to crustaceans and shellfish, with an offer to review a food box sent to her by Woop. This particular box is part of their Balance Box series ($117 for three meals for 2), and it included a super cute tea towel and all of the ingredients required to make prawn poké bowls for two people. Being a huge fan of Hawai'i and its rich and interesting culture, poké just happens to be my favourite food on this planet. Needless to say, I was stoked for this experience!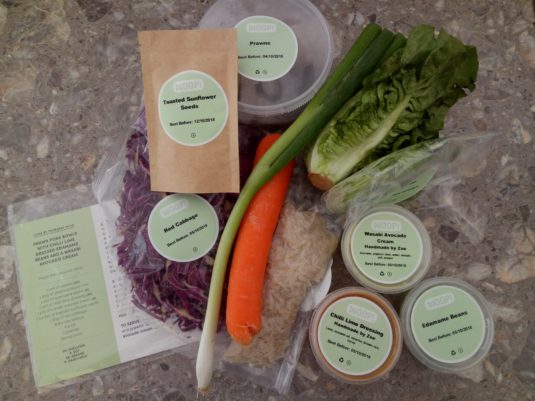 While unpacking this box, I was immediately impressed with how fresh everything was. Inside the kit was a head of baby cos lettuce, one carrot, a spring onion, some edamame, brown rice (pre-steamed and then vacuum sealed), shredded red cabbage, fresh coriander, toasted sunflower seeds, and two sauces (chilli lime dressing and wasabi avocado cream) handmade by someone at Woop called Zoe. Last, and certainly not least, a container of gorgeous fresh prawns and a set of easy-to-follow instructions were also provided. This box had literally everything I needed to prepare and cook this appetizing meal myself, plus a bonus gift to help with the washing up afterwards.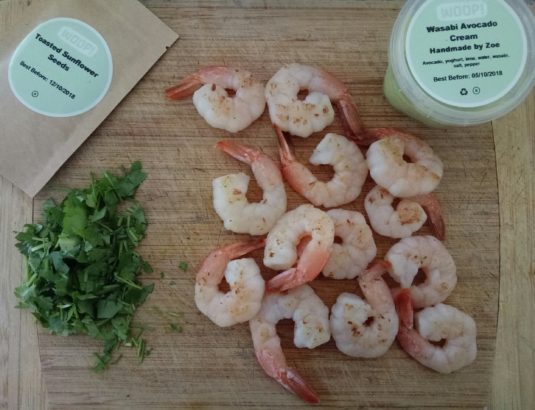 Having never done this type of thing before, I made sure to read the instructions (which are only two steps) before I began. Everything was written out in a very clear and concise manner, so there was no guessing as to how to prepare and cook each ingredient. Even someone like myself, who is averse to using recipes in general, found it all quite easily laid out. After a couple of minutes, I was confident in my ability to execute this recipe quickly and effectively. I chopped, fried, and mixed my way toward my end goal: a delicious bowl of prawn poké.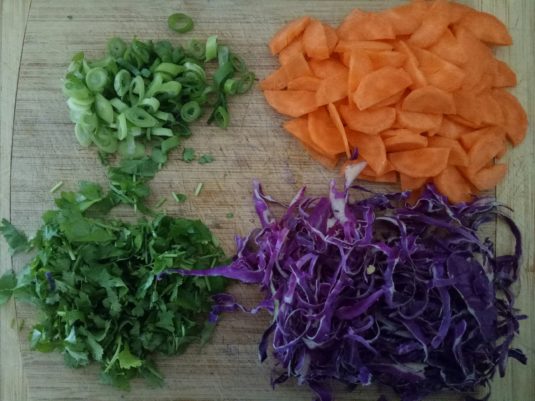 After slicing and frying some of the vegetables (only for two minutes to enhance their natural flavour), I mixed them up in a bowl along with the dressing, the cabbage and half the coriander. After that, it was time to focus my attention on frying the hero of the dish. Thankfully, prawns cook very quickly, so I wasn't left salivating for long. I arranged the baby cos leaves and rice in bowls before piling the veg mixture and prawns on top. Add to that the remaining coriander, a dollop of wasabi avocado cream and a sprinkling of toasted sunflower seeds, and the dishes were complete. Once all was said and done, the entire meal took about 12 minutes to prepare, cook and plate. Being as excited as we were to try the meal, my partner and I finished our bowls in maybe five minutes.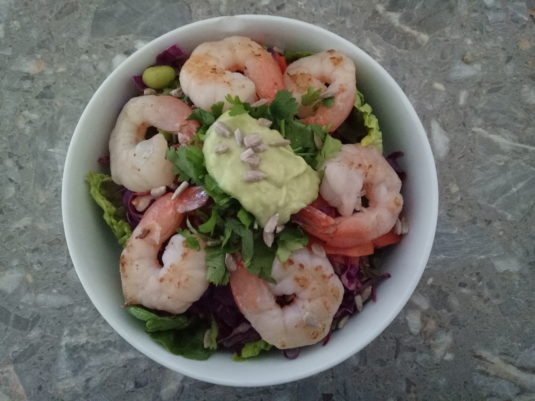 All in all, we were both impressed. The meal itself was very filling, with my only criticism being that I could have done with a bit more brown rice. The dressing had a great flavour and a small amount of heat, which played well with the coolness of the edamame and cabbage. The prawns were plump and rich, and the toasted sunflower seeds added a bit of a crunch to the overall texture. The wasabi avocado cream was incredibly moreish, and I even finished the rest of the container off using only a spoon. This having been my first encounter with a food box, I can confidently say that I am now going to look into a Woop subscription of my own.