Preview: All Good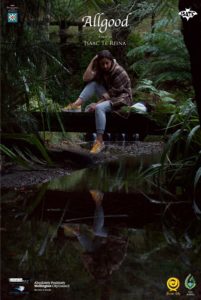 Parekura and Ra re-unite on a night out in the town. Their past rekindles an old kind, odd romance for each other again. They enjoy the night and end up back at Parekura's whare where her father, Chief, awaits the return of his only daughter not expecting to see her infamous friend as well. Chief concedes to Parekura's demands of letting Ra stay on the condition that she begin to take her anti-depressants. After catch ups are had Chief and Ra come to form a mutual kind of concern for Parekura and she begins to ask for guidance from her mum.
Parekura's state of mind begins to deteriorate during the day from various pressures and stress. As she tries to get back to a sense of good a familiar turbulence begins to arise between Ra and herself leaving Ra to figure out how things got so messed up, so quickly, again.
All Good explores healthier relationships within the mental well being of young women and families while destigmatising the effects of domestic abuse. It offers an insight into the life of a young Māori wahine as she fights against the darkness that tries to bring her down.
Written by Isaac Te Reina, directed by Whetu Silver, performed by Isaac Te Reina and Moana Johnson, produced by Taurima Vibes Ltd.
All Good on at BATS Theatre 9-13 October 2018