Review: Space Patrol 5 (NZ Improv Festival)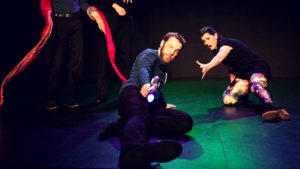 I leaned over to my theatre-going companion just before the start of this show and pointed at one of the audience-made spaceships lying on the floor of BATS' Random Stage. "That spaceship looks a lot like a dildo," I remarked, presciently as always, and he agreed.
The audience, in an ode to predictability, chose it.
And thus, we all embarked on a fantastic space journey with the crew of the aptly-named SS Wang, who were determined to save the universe from the horrors of the patriarchy (and unwatered plants). Which, in the space of about 50 minutes, they absolutely managed to do.
Space Patrol 5 is the brainchild of Christchurch's Court Jesters, and was spearheaded in Wellington this year by former cast members Matt Powell and Brendon Bennetts. It's an entirely improvised show, and a spoof of well-known sci-fi shows and works.
From challenging the great and terrifying might of the Kardashian Empire to everyday examples of misogyny closer to home, the crew of the SS Wang (which was renamed the SS Pussy after defeating said empire), brought us an exciting and hilarious show with some lovely moments of sincerity.
I'd especially like to note the actor playing the botanist, Strawberry Fields, who took an utterly bizarre premise and managed to create enough scienceish technobabble – aloeverastoponous (sp???) plants, indeed – to fool even the greatest of sci-fi connoisseurs. I didn't quite understand the intricacies of the Kardashian Empire's evil plans – something involving the aloeverastoponous plants – but in the end, it hardly even mattered.
Space Patrol 5 was compelling sci-fi and very, very fun.
If you're in Wellington, check out the New Zealand Improv Festival! It's on from now until Saturday. Tickets from their website.