Review/s: New Zealand Improv Fest Bonanza
I saw four improv shows last night as part of the New Zealand Improv Festival. In the interests of brevity, here's a joint review of all four.
Austen Found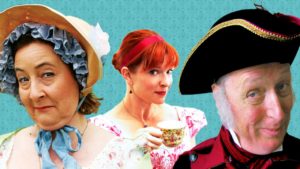 Penny Ashton's Austen Found is a perambulation into the world of one of Jane Austen's lost musicals – in this case, the story of one Victoria Sandybottom, who is in desperate need of a husband. Pickings, however, are short – she is obliged to choose between Colonel Smidget (sp??) – who unfortunately had an illicit encounter with a woman in France and is thus outcast when his secret is revealed – and the village's Vicar, who has an unfortunate tendency towards overt creepiness.
(She ended up with the Vicar.)
Jane Austen put to music is certainly rather entertaining. I thoroughly enjoyed the song between Victoria (Ashton) and her best friend Deirdre (Lori Dungey) where the two women speculated about what it would be like to kiss their husbands once they got married – complete with a whole world's worth of giggling.
If I'm truly honest, I did hope that the two women would end up together – considering the unfortunate pickings in the town and my tremulous shipping heart – but this is Austen, after all, and that did not come to pass.
In all, Austen Found was slickly improvised, with fabulous dick jokes, and some very well-executed songs. Lots and lots of fun.
Love Isthmus: Dystopia Edition
Christine Brooks' Love Isthmus is a truly bizarre and apocalyptic hour of improv, styled heavily off the Love Island television show (or so I'm told).
"The water is getting higher, the isthmus is getting narrower. Success means true love and salvation. Elimination means death. The power is in your hands." Eight people are dragged from the Ashes of civilization and given the chance to live in the Cloisters – a sliver of civilization untouched by devastation. However, only two people from that group can make it into the Cloisters – the two people who can honestly fall in love with each other – and convince the audience of such – in around about 45 minutes. Those who the audience vote out get murdered by looming guards, and the whole thing is a bit of a nightmare.
Love Isthmus was an incredibly unique premise for an improv show, but fell slightly flat because it didn't push the envelope quite far enough. Though the setting was dystopian – the Cloisters' Emperor watched on from the audience and the whole thing was very Hunger Games, it didn't really lean into the darkness of some of the moments.
What really became exciting was when the show broke away from its episodic mold – Leo, the crowd favourite – broke free from the guards trying to kill him and stabbed the Emperor to death. We all rose up as one and started cheering for him – his character had grown from a few intro lines to someone who we could actually care about.
It would be interesting to see Love Isthmus with a few more of those moments of rebellion – though we, as the audience, are 'privileged members of the Cloisters' – what sort of characters and moments could make us want to fight for those on the outside?
The Greatest Show
Amanda Buckley and Wiremu Tuhiwai's The Greatest Show pulls back the curtains on the Big Top and lets us into the final night of a travelling circus, mere hours before they go out and perform their final show as a company together. It's a massive ensemble piece, with a lot of dancing, some fantastic singing, and all the glitter one could ever want.
Buckley and Tuhiwai led us through the show as the MC and the CM respectively, who were both trying to deal with the fact that their show (and their lives together) were about to be over. They kept everything at a good pace, lightened moments when they got too dark, and had fantastic energy together. (The surprise proposal between the characters at the end was very sweet as well!)
We had Susie – the bearded woman – sing her tale, as well as Vladimir (a giant Russian man), a fire-breather, a contortionist and a whole host of other esoteric characters. While it would have been nice to have a slight deviation from this mold of story telling – to see the ensemble do more pieces together would have been nice – the whole show felt very genuine and had a lovely heart at its core.
Playshop DEAD!
Playshop's spooky Halloween-themed showcase was MC'ed by Sam Irwin – who gallivanted around the stage giving out lollies to the audience and the improvisers – and helmed by Playshop's usual team – as well as a few special NZIF guests.
George Fenn also loomed behind the audience, dressed as Jigsaw (from the Saw films), and occasionally imposed penance upon the improvisers.  Austin Harrison – in full regalia as a spooky skeleton – was made to spend all a lot of his scenes on the floor, while Jen O'Sullivan had to perform as Santa Claus (in October).
The evening culminated in Jigsaw dragging Jen off to Improv Hell for flouting one of his rules.
In all, a very good night indeed.