Review: Hamlet (Summer Shakespeare 2019)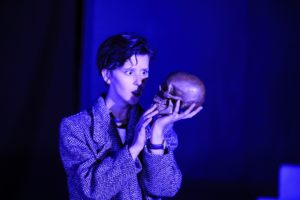 Summer Shakespeare's Hamlet has been a show I've been looking forward to for a very long time, and I can definitely say that it didn't let me down. Directed by David O'Donnell, and starring Stevie Hancox-Monk as a female Hamlet, the show brought Hamlet back to life for me in a very good way.
Hamlet is a fantastic play but it often gets bogged down in the sheer tragedy of the story – which is all well and good, but not for three straight hours. In this iteration, O'Donnell leans into some of the comedy of the text, bringing out sheer humor in moments where you wouldn't quite expect it. A scene in particular that I loved was the scene with the gravedigger (played in this instance by the excellent Jane Paul) – "Alas, poor Yorick! I knew him…" and so forth – which took place partly within the stage itself (set designed by Lucas Neal). This scene deals with death and loss in a very unique way – it's the moment where Hamlet discovers Ophelia is dead, after all – but it still manages to hold that comedy and tragedy on a knife's edge, without ever swinging over into sheer depression or inappropriate comic relief.
Hancox-Monk's performance as Hamlet is excellent – bringing a very visceral energy to a well-hewn character. It's very rare that we get to see mad women – or at least, mad women who aren't fridged in favor of masculine narratives – and it was a pleasure to watch. She captivates the audience, playing Hamlet with a welcome self-awareness, and gives one hell of a feminine badassery to a character we know so well.
And I've gotta say, it's about goddamn time.
The addition of a mixed-gender cast was a fantastic choice on the part of the production team. Characters such as Polonius, who I've often found to be doddery and far too talkative for his own good, were completely revitalized by the cross-gender casting – in this case, Polonius (played by Ivana Palezevic) becomes a hilarious character with a very real thread of motherly fear underneath. Her performance feels true to life and real and I thoroughly enjoyed it.
Jenny Nimon (Ophelia) is a shining star, bringing a certain strength to a character that we more often see as waspish and beleaguered. Singing songs of rosemary, and lost love, her passion and argumentativeness (and believe me, that's a good thing) is very welcome, and very missed when it's gone.
Dramaturg and Assistant Director Lori Leigh brings a wealth of knowledge to the table, adding in a deeper knowledge of feminism and queer Shakespeare to the performance and the show's world on a whole. Her fantastic 'behind the scenes' dramaturgical blog is here, and I urge you to check it out.
Hamlet in the Dell feels revitalized and fresh – with some very real moments that benefit a slightly-woker, more uniquely 2019 audience. Even if you aren't such a fan of Shakespeare, I guarantee there'll be parts you'll enjoy.
"Frailty, thy name is women." – It's sure as hell not.
Hamlet is running at The Dell from today until the 2nd of March 2019. Tickets are available through Eventfinda. It runs at approximately three hours including an interval. The show has an inside venue in the case of inclement weather, the location of which will be announced here five hours before every show. Buy your tickets today!