Review: Side by Side by Sondheim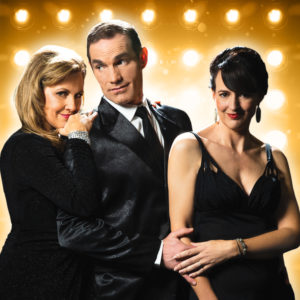 A revue of 'most adventurous composer' Stephen Sondheim's works. Originally performed in 1976 the musicals represented in this revue are from the early part of his career. (Some of the musicals mentioned in the show's promotional material do not feature.)  He explores the themes of love, relationships, and marriage.
Performed by Julie O'Brien, Matthew Pike, Sarah Lineham. O'Brien is the stand-out performer for me on opening night. She's expressive vocally and makes the choreography (by Leigh Evans) look easy. She's equally as comfortable in slower numbers, breathing the lyrics softly over a spellbound audience. Matthew Pike sings as naturally as he talks with a lovely tone. He is capable of juxtaposing sweet with contemptuous. Sarah Lineham had problems with her microphone on opening night which popped and crackled during the entire energetic first half. She finally mentioned it which made us laugh but it must have been horrible on stage too. Hopefully this hasn't put her off too much. Musical Director Michael Nicholas Williams is joined onstage by Colin Taylor. They get to take part in the shenanigans on stage with some quirky little asides while providing musical accompaniment on the pianos. Lisa Maule is Lighting and Set designer. The set is simple which leaves ample room for dancing. The lights really help to set and change moods, and to focus our attention on what's happening next. Director Emma Kinane gives us a fast and funny first half. The second half is a bit uneven although that's more dictated by the songs rather than the performances.
Sondheim has been writing and composing for many years. This musical celebrating the 40th anniversary of Circa Theatre's original production was both fun to watch and sparked a post-show conversation about favourite shows and performers.