Review: The Blair Witch Projector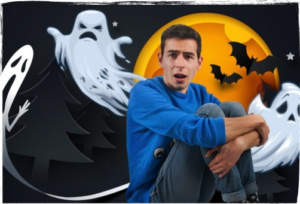 After a few minutes of technical issues – which may have been an actual ghost in the theatre, who knows! – we're brought into this show by James Mustapic talking about being unemployed, to which several people in the audience cheer in unfortunate acknowledgement (myself included).
Mustapic is going to do a "proper stand-up show", he reiterates several times, before the projector behind him is possessed by a ghost wearing a Scream mask, and we're thrown through several of James' Repressed Memories by the ghost, all of which are projected up on the screen, and relentlessly mocked with some quality memes.
If you've seen any of his content for The Spinoff, this show follows much the same vein. It's absolutely a show for millennials, or at least people up with the times around popular meme culture, and feels fun and grounded, at least to someone my age.
James talks about his love for cats, Sensing Murder, Love Your Condom PSAs, and even recaps Shortland St (in a segment that probably goes on a for a smidge too long). He's very witty, and knows how to play to a crowd, and I appreciate the occasional dip into slightly more serious topics.
Does the ghost narrative get resolved? Well, you'll just have to go and see the show.
As a fellow unemployed gay 22-year old with anxiety issues, this show resonated a lot with me, and I wish James well.
I look forward to seeing his future Wellington shows!
The Blair Witch Projector is on at BATS Theatre until the 11th of May 2019. Get your tickets here!