Review: STUPID BITCH wants a puppy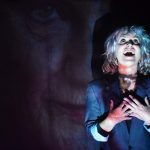 This is a 'tune up' of 2018's STUPID BITCH which played in a dance studio above Cuba Street in the Fringe Festival. As a work in development it garnered actor/writer Claire Waldron nominations for Outstanding Performer in the Wellington and Dunedin Fringe Festivals. This time around it's at BATS Theatre in The Heyday Dome. Waldron is presenting it as part of the 6 Degrees Festival.
Described as "An original, multi-media show about a range of women from different backgrounds with nothing in common who might, if they were all in the one room, think of the other women as' stupid bitches'" the multiple characters are a kaleidoscope, reflecting the other's experience  This is exemplified in a sequence near the start of the piece. Words scroll upwards over a close up video of a face. They are projected onto a dark piece of cloth hanging from a pole suspended from the roof.  Waldron has cocooned herself in the trailing fabric on the ground. The story describes an encounter with a woman in Pigeon Park, judging her as needing help. Help is offered but is met with a stinging rejection. This exploration of how women see and are seen oscillates throughout the show. We never meet exact opposites, only facets of different characters. How women enact power and surrender, desire and drive, mothering and care. Waldron is a character herself, popping up in the spotlight (self-directed) to tell us about her history as an actor. She says "To be an older actress is a type of resistance, your very existence onstage is an act of rebellion." To see, and to be seen.