Review: The Human Voice (La voix humaine)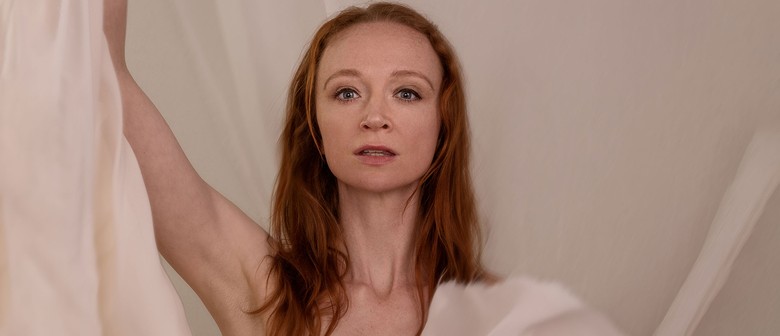 TW: Suicide
Jean Cocteau wrote La Voix Humaine in 1928 as a one-act play.  Francis Poulenc set it to music 30 years later, despite having already known Cocteau well for years, and gave the reason for the delay as having needed more life experience to do it justice.  During those years he struggled with depression and self-medicated.  When finally his musical adaptation, a solo mini-opera, of La Voix Humaine was complete, Cocteau loved it, believing that Poulenc had truly understood and expressed its intent.
Suite Gallery is a neutral white space, to showcase the art exhibited there.  For the duration of this show, paintings by Megan Archer were chosen.  They're visceral, sharply rendered but fleshy and creepily sensual, and seem out of place in such a clean space.  Scattered around the piano in the corner are ladders of various sizes, drop cloths, a box of letters.  It seems as if someone is halfway through packing, or decorating,  and everything has just been stopped.
Everything has been stopped.  Elle, she, the woman we're here to witness, wanders into the room.  In a shift and a jacket, barefoot, she's wan and bedraggled, mascara smudged under her eyes.  She sniffs, she's been crying.
The opera follows Elle through the last savage moments of a break-up.  As the lies she'd told herself and her lover crumble, she tries desperately to hold them together, even when it's brutally clear that he's lying too.  Five years together and she's wearing his shirt, rereading old love letters, trying to leave the house and failing, and sleeping with the phone.  The sound of his voice on the phone is the only thing she can cling to.
To perform a 40 minute solo opera is no mean feat.  Monologue theatre is gruelling, and I can't even begin to imagine the fortitude needed to maintain not only emotional energy but also the immense physicality of singing throughout.  Barbara Paterson is a masterful soprano, and Poulenc's composition demands all that mastery.  She performed Elle, a woman in anguish on a last call to her lover, with extraordinary focus.
This role is both an emotionally demanding character, and a tremendously challenging singing part, and at no point did Paterson lose her grip on either.  Her Elle was painfully affecting, one moment fragile and pathetically needy, and the next dreamily reminiscing about happier times, earthily swaying as she wrapped the phone cord around her neck.  Paterson's versatile physicality is impressive, and she easily moved from frail and brittle to something stronger, more resilient and then back again.  Despite the gruesome confession of a suicide attempt, and the clear potential for another, successful one, those glimpses of strength offer a more hopeful possibility.  Maybe, now it's really over, maybe Elle can heal.  To be honest, I got a strong Piaf vibe; the helplessly tragic in love with love but with the impossible strength to weather it. Bear in mind I love Piaf.
Paterson's voice was as flexible and emotionally raw as her characterisation, and completely intertwined in it.  Not afraid to make it ugly, she slid from sweet and pure to mellifluous, and then screechily shrill, before subsiding again into monotone responses as the caller takes over the conversation.  Moments of humour help to lift the tension, and I was chuckling at Elle's absurd indignation when a crossed wire had some random eagerly listening in on the call.
Supporting Paterson's intense delivery was Gabriela Glapska's competent and sensitive accompaniment.  The word doesn't do it justice – more than accompaniment, her playing superbly framed Paterson's performance without ever distracting from it.
Somehow, with the street noise occasionally heard outside the gallery, and Paterson's complete focus, it felt like we, the audience, weren't there.  Or perhaps we were flies on the wall, or neighbours overhearing through the walls, or even peeping through the keyhole into her flat.  It was a strange feeling, but a testament to the commitment shown by Paterson.
I regret that there's only one more performance of this incredible show, but I exhort you all to go if you can.  7:30pm at Suite Gallery on Cuba.
There's also a Wellington Festival season of this show; February 27-29 at the Academy Galleries.  Get amongst it, guys.