Preview: Girl in the loft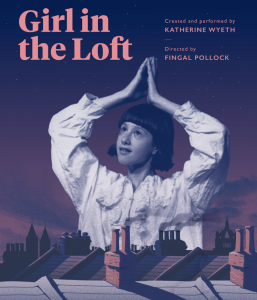 Girl in the loft is a solo show by Katherine Wyeth. It's the story of a childhood growing up at The King's Head Theatre, London.
"My life began as a theatre kid growing up at the world-renowned King's Head Theatre in London. I was lucky to experience a unique childhood growing up in the theatre… at each get-in watching it transformed from the chaos of sawdust and sequins to the new world of the next show…. climbing across the rooftops of London… torrid kisses backstage… waiting tables and slinging slops behind the bar."
This brand new play recounts the story of her childhood, weaving together the threads of memory, identity and legacy to explore myriad experiences, from growing up to migration, motherhood, losing loved ones, success and failure, and ultimately – self-acceptance. It combines lyrical dialogue, stunning sound & AV design, and a beloved songbook of musical theatre favourites.
"This is a deeply personal story for me – but will also (I hope) be a compelling theatre experience filled with stories that will strike a chord with many people. It has taken several years of development to bring this story to life. I am grateful beyond measure to my extraordinary creative team who have stood by the project in these most uncertain times, lending their magnificent talents to realise my dreams for the show."
Performed by Katherine Wyeth, directed by Fingal Pollock with musical accompaniment by J. R. Ballantyne.