Preview: Routine Magic-Magic Routine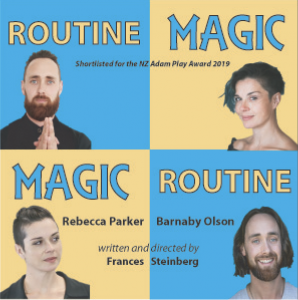 Routine magic – Will Aloysius abandon ritualistic powers acquired during his 10 year social isolation?
Magic routine – Can YouTube Influencer Ant Hill find sufficient inner harmony to open a life-changing envelope?
This pair of plays, utilising the same set and actors, tell two timely and compelling stories. Routine Magic, shortlisted for the Adam NZ Play Award in 2019, takes you on a  thought-provoking journey through what happens when Aloysius, who has developed extraordinary powers refuses to allow court-ordered psychologist Sarah inside his house. Magic Routine is a more humorous but still profound look at what happens when Celestial Spirit #108 visits YouTube sensation Ant Hill on the occasion of his 21st birthday bearing a magical envelope from his absent father.
The plays are performed by highly-acclaimed actors, Barnaby Olson and Rebecca Parker. Barnaby is a local Wellington creative who wrote and performed in the fantastic new work A Traveller's Guide to Turkish Dogs, toured nationally with productions such as Anzac Eve, and An Awfully Big Adventure, and starred on screen in BURBS, Missing Sunday, and Tragicomic.  Rebecca Parker has appeared in various productions in the Wellington Fringe Festival, the Court Theatre in Christchurch, BATS, and Circa Theatre, as well as shows for Stagecraft, Kidstuff, Kapitall Kids, Showbiz, Backyard Theatre and Fresh Dada.
Routine Magic-Magic Routine are written and directed by Dr Frances Steinberg. Despite Frances' love of theatre extending across six decades, from her first director's job organising the neighbours into a backyard performance of Peter Pan when she was 6 years old, through serving as choreographer and performer for the Martial Arts Theater Company in America in the 1980s, she spent the majority of her professional life as a psychologist, martial artist, acupuncturist, interactive learning designer, international presenter, and author of more than 12 professional books, 3 novels, 7 online guides, and an illustrated storybook.