Preview: The Slutcracker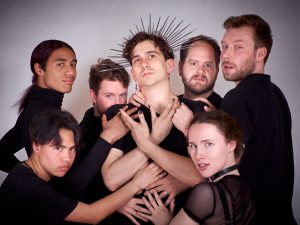 From School For Gifted Children, and the creator of Change Your Own Life comes a new queer ballet for Christmas. Loosely based on the classic Tchaikovsky ballet The Nutcracker, The Slutcracker tells the story of a queer chosen family Christmas gathering, and a romantic whirlwind night through the queer streets of Wellington.
Director Jean Sergent says "I was sitting in the BATS dressing room on the first day we went into level 1 after lockdown. I was completely alone, about to perform a live-stream of Change Your Own Life, and I suddenly thought, man, I am lonely in here without other actors!" The Slutcracker was Jean's answer to that loneliness. In creating a show with a strong ensemble spirit, grounded in a desire to connect and have fun with other performers, Jean wanted to give people a chance to make theatre in 2020. "It was tough during lockdown for live artists. We had no idea if shows would be going ahead or not. Live artists depend on gigs to make a living, and so many of us saw so many of our jobs get cancelled or put on hold."
Multi-talented Brigid Costello is returning to Wellington to choreograph The Slutcracker, following four years as the company choreographer for the Pop Up Globe in Auckland. Having played Clara in The Nutcracker during her professional ballet career, Brigid is excited to queer the text and change the norms around who ballet is for. Fresh from a sell-out season of The Glitter Garden, composer Maxwell Apse will be arranging the original Tchaikovsky score to bring in modern beats and the sounds of the streets, clubs, and cafes of Wellington. The ensemble includes Dryw McArthur, Jake Brown, Andrew Patterson, Georgia Kellett, Felix Crossley-Pritchard, Shay Tanirau, and Sam Ropati.
Join Clyde, Joe, Mother Ginger, the Rat King, and the Sugar Plum Fairy as they explore the true meaning of Christmas – connection, love, joy, and community!
The Slutcracker, on at BATS Theatre* 24 November – 12 December 2020 (Get the Festive Upgrade for $40 to add a tasty tipple to your ticket and to give the artists involved a few more dollars!)
* Have a look at all the other shows BATS have to the end of the year. We're so lucky that we can see our talented creators and performers in a shared theatre space.
image credit Jason Aldous