A couple of new(ish) bars
Hey, remember when we used to be on top of all the openings and closings in town and filled with reviews? Yeah me neither. The 'ista is old and property-and-business owning now, and we have Twitter instead of our group mailing list. But we can still try!
So to that end, here's a couple of bars I've been to lately that you might also like to know about.
Love Not Lost
From the makers of our beloved Hanging Ditch comes a bar in the Courtney Quarter that's actually worth heading to that part of town for? Love Not Lost on Allan Street has been a million curry places and maybe also Muse and that truly truly awful Orpheus. Now it's bar with a solid food menu, full of fancy cocktails and big comfy couches. It opened at the end of last year so the space doesn't feel quite as lived in as I'm sure it will, but it's nice to have a bar that prioritises lounging, along with a pool table and two-tops if you're eating. When we visited a couple of weeks ago, the cocktail menu was Meatloaf (the singer) themed, so they missed a trick not offering a meatloaf burger as well, but what they had on offer was delicious.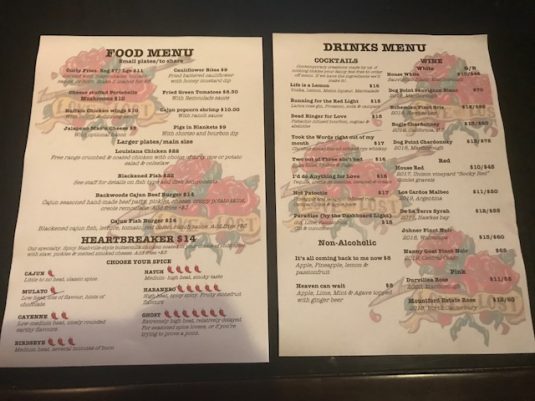 Obviously I had to order a Dead Ringer For Love to get that pistachio-infused bourbon. I could have used a little more sweetness I think, but in their defense I've been drinking a lot of overly sweet drinks over summer. Apparently the 'I'd Do Anything For Love' with its tequila, creme de menthe and caramel is a top seller. I love that despite the compactness of the wine list they offer two rosés, which is very smart for summer. My friend's 'Life is a Lemon' was delicious, the sweetness of the melon liqueur and marmalade perfectly balanced with the lemon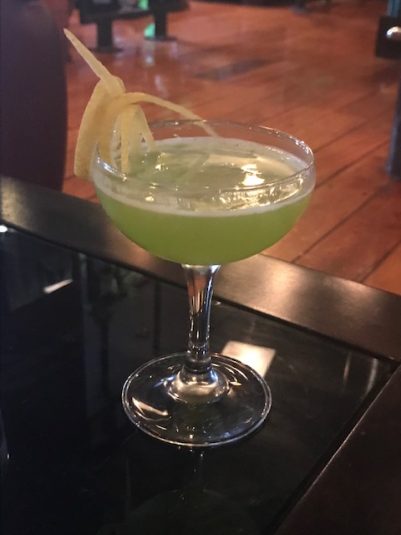 The menu will be changed four times a year, FYI. I had a dinner booked afterwards so we didn't try any of the food, but I'll be back. They say they're open from 12pm-3am every day so they might prove to be a good late night refuge from the messy throngs on the rest of Courtenay Place. I don't know for certain though cos we were there at 5pm on a Friday.
Yakisoda
Yakisoda is not actually a new space – it's the mask that BOL at 99 Victoria Street puts on at night.  Although, I'm currently trying to find any trace on the internet that BOL still exists and I'm failing.  So maybe Yakisoda is becoming its permanent skin? There goes what I'd planned to write about how I love popups bringing new things to existing spaces and giving people the chance to try something new while making really efficient use of resources. This also explains why I couldn't see a BOL sign underneath the Yakisoda one. Ahh having all the knowledge and full story and knowing what we're talking about, that's what you come to the Wellingtonista for, right?
But anyway. The interior of Yakisoda is small, and very very simple. There's a couple of counters to sit at, and a couple of tables with stools, and that's about it. They'll bring out candles when it starts getting darker. This is definitely a bar to go to with someone you're very comfortable talking to, because there aren't a lot of distractions. You'd also be fine in here by yourself with a book I reckon. The staff are very knowledgeable about their drinks menu and its Japanese/Peruvian inspirations. And the cocktails – oh lorde are they gorgeous. I mean, look at this: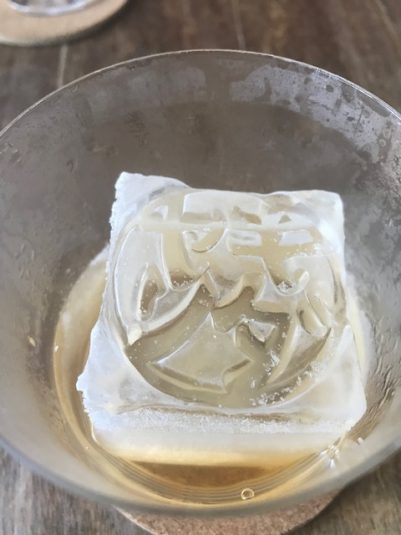 That's the Martinique Milk Punch, made with Agricole Rhum – Brown Butter – Peach – Clarified Milk. Apparently they make their ice cubes by heating their katakana stamp and pushing it into the ice cubes. On a hot Wellington day, there is nothing more beautiful than the cold rising up off of this. And the drink! It's so dreamy and smooth and flavourful. I could have had half a dozen of these and been very happy indeed. Maybe I will next time I'm feeling rich ( $16 is a perfectly normal price for a cocktail, but six of them would not be in my budget). I also tried the 'Midori?' which was a perfect tangy balance, and it was very simple and pretty too.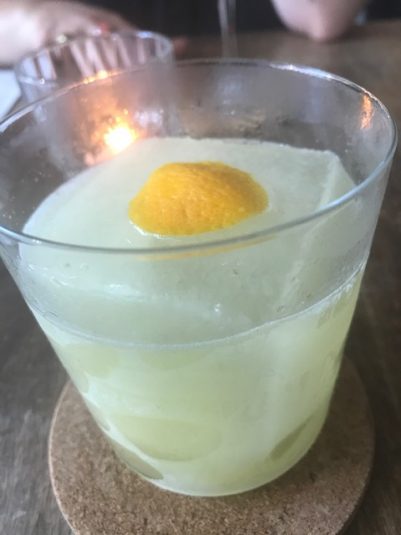 Once again, I didn't try the food, but the next hot day may very well call for their Kakigori – shaved ice with yuzu and makrut lime.