Review: Medea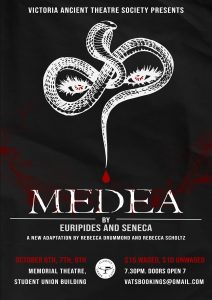 The Victoria University Ancient Theatre Society's adaptation of Medea is an unique combination of both the Euripides and the Seneca play – and I must say, I like where it goes. It's a fresh take on two classical scripts, and they meld together well, adapted by VATS' Rebecca Drummond and Rebecca Scholtz.
The show itself is powerful, focused significantly on Medea's rise to power as she ruins her unfaithful husband. It's a tale of murder and witchcraft and bloodshed, and the zingy script works in its favour.
A wide variety of the performances within this show are quite strong. Medea (Maia Ross-Donald) is well-cast, and brings a feral intensity to some of Medea's speeches. It is almost hard to not root for her – in some respects – by the end. I'd also like to make note of the performances of Aigeus (Isaac Bennett-Smith),  Sophronia (Sophie Helm) and Sotiria (Sacha Acland) – all of whom have excellent stage presence and fit well into the vibe of the play.
However, I do question the directorial choice to stage this script in the era it's set in. Medea especially is a classical play that is very, very relevant to the modern age – it could so easily have been staged in a modern situation and the themes likely would have resonated a little more if it had been. I also question the desire to not include any kind of soundtrack to the show, there's a lot of dramatic witchcraft moments that would have been incredible if there'd been audio attached.
On a whole, it's a good piece of staging, with some really lovely stage pictures – I especially liked the moment when the actors utilised the audience space to symbolise Medea's last stand on the roof of the palace. I also note that it is an incredible challenge to stage theatre at this point in the pandemic, the fact that this show is sold out is incredible.
Medea is running at Victoria University until Friday, but it is sold out.