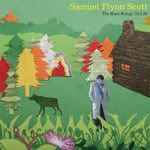 More NZ Music month goodness is upon us, with the release of the Phoenix Foundation's Samuel Flynn Scott's solo album – 'The Hunt Brings Us Life'.
Those of us lucky enough to receive sneak preview copies were also amused by the very excellent accompanying press release courtesy of 'Prof' Russell Brown, which we recommend you go to and read in its entirety over at Public Address. If only all musical acts could approach their PR with such good humour. (Tellingly enough, the last CD that had anything remotely as good was fellow Phoenecian Luke Buda's PR for his also recently released 'Special Surprise' album, which featured photos of Luke as Rambo and Hercules (although not, we were disappointed to see, Benny from Abba (although, we did fix that))).
As if all this Phoenix Foundation members doing their own thing wasn't enough, we get the added bonus of a broadcast of Scott's other 'other' band – Bunnies on Ponies – live at Bar Bodega, on National Radio tonight (web stream available here). At 7:30pm. When … hold on … there's something else on .. around then? Anyway, Scott describes Bunnies on Ponies as…
…hotch potch kind of folk band that combines gentle folk
songs with slightly aggressive improvised arrangements.We know exactly what he means. And, for those who don't, you can just tune in and find out.