Rugby Registration Day for Kids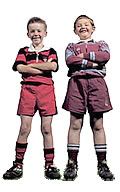 Just a quick note for anyone with under 13yo kids who might want to play rugby this year – registrations for Wellington Junior Rugby is this Saturday (Sat 26th).
Junior Rugby is non-contact, non-tackle, and is graded to take weight and age into account.
There's more info on the game on the WRFU website, including a list of club contacts, or contact Anna Thompson (aka Camp Mother) at 380 2213, or via email: camp dash mother at xtra dot co dot nz.