Hurricanes down amongst the one-eye'd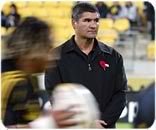 If you're a rugby fan you'll know that the Hurricanes are already through to a semi-final to be played at either Christchurch or Sydney depending upon how the weekend pans out.
A win over the Crusaders this weekend would have a huge psychological advantage at this semi-final
To ensure some balance to the unbiased cheering the Wellingtonist has sent one of their loudest reporters south where he is already secretly camped amongst the 'one-eyed'. And he's not alone as reports come back of other Wellingtonians already arriving in the Garden City ready to cheer the 'Canes on to a second memorable win.
The latest team news is that both teams are resting key players with Tana not in contention and Jerry & Andrew (Hore) starting on the bench.
The Crusaders have Dan "Nice dags" Carter, Mose Tui'ali and Casey Laulala watching from the stands but keep an eye out for "Panadol" McCaw making a storming run off the bench at some point
Rumours that "Mad" Maxwell was to play but his Probation Officer isn't allowed to accompany him onto the field have been found to be untrue.
For those not at the game the Wellingtonist would like to point out excellent local screens at:
If you know of other fine rugby viewing venues then don't hesitate to pass it on
The Lions are coming: if you've not got yourself a ticket to the test here in Wellington then watch this space for news of an excellent event with a truly large screen.