Botanic Gardens for August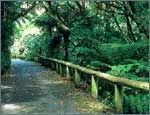 Glowworm Tour
Friday 5 August, Founders' Entrance on Glenmore Street, 7.30pm
See the Botanic Garden's glowworms after dark.
Cost: koha/donation
Bookings are essential as places are limited.
Not suitable for children under six.
Children under 10 must be accompanied by an adult – maximum of two children per adult.
Bring a torch – no more than two people per torch.
Wear good walking shoes.
Guided Walk: Dinner with the Trees
Sunday 21 August, Duck Pond, 11.00am
Learn about the many products that trees provide including chocolate, ink, sugar and even chewing gum.
Moderate walk: 75 minutes.
Gardens – Botanic Garden – Events Calendar – Wellington – New Zealand