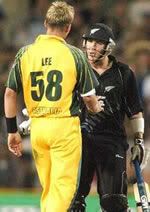 So, it's lightly drizzling up here at Wellingtonista Towers at present, which is just a short walk from the Stadium, where today's One Day International (or Oh Dee Eye as they seem to have taken to calling this form of the game on the telly) between the NZ Black Caps and the Australian, er, Baggy Greens is to take place.
The forecast from MetService is for "Becoming fine this morning. Southerlies tend northerly." If someone can tell us exactly what "Southerlies tend northerly" actually means, we'd be most appreciative. Unfortunately the rain radar is down for repairs at present, so there's no way of telling if there's any more rain on the way, but, looking South over the green hills of Kelburn and Karori, it does seem to be lightening up that way, so it seems as if there will be a chance for some play today.
But, boy, it's still humid. Doesn't humidity assist the bowlers? Don't the Australians have Brett Lee? Where's the rain when you need it?
Live ball-by-ball internet coverage from 2pm over at Cricinfo.
UPDATE: Not a cloud in the sky to the South, and just a few clouds hovering around the ranges to the North and East, so should be good for a full game by the looks of it. Hot and humid, lovely.
And MetService have updated their forecast to: "Fine weather. Tending northerly."