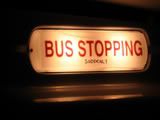 With so much happening in this fair and glorious city of ours (it's not just mine, it is all of ours) there's a high chance that you're gonna bump into some "out of towners", especially the next few days as the city fills up with drunk penguins, herds of Elvis-es and not an unwelcome amount of nearly naked people … the rugby Sevens are on!
Whilst we all know that nearly everything is within walking distance of the Stadium ("It's a very walkable city" was probably only just pipped by "Absolutely Positively Wellington") we at the Towers are sure that there will be a high proportion of these tourists catching buses from 'here' to 'there'.
And once on the bus they will be pleasantly surprised by how, as Wellingtonians leave the bus, there is a hearty, "Cheers drive!"
Well, actually it's likely to be a, "Thank you" or even a, "Thanks driver" but why shouldn't it be, "Cheers drive"?

This small moment of courtesy is something that we polite Wellingtonians take for granted and it's only hearing the comments from "others" that we can realise that we are, in fact, pleasantly different. It doesn't happen in Auckland, Christchurch or Taihape and it certainly doesn't occur in London, Sydney or Suva … although we have it on good terms it is common in the English city of Bristol ("Cheers drive").
And so, however you say it, say it proud and definitely say it loud as it can be hard for the driver to hear above the singing!
Enjoy the Sevens party everyone, whether you're going or not!