Test Cricket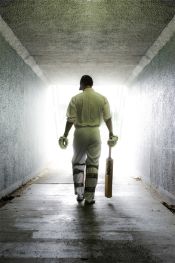 When the New Zealand cricket team (note not BLACKCAPS™) first toured South Africa in 1953 they had never won a Test Match and were given no show against a ruthless South Africa, on pitches tailored to support their fast, mean quick bowlers.
The cricket was tough, and victory was ultimately beyond New Zealand's grasp, but it wasn't the cricket that ensured that the series became a NZ sporting legend. The 1953 Second (Christmas Day) Test is famous for the profoundly moving story of one player, Kiwi fast bowler Bob Blair, and his story has been brought to the stage by talented actor Jonny Brugh (Sugar & Spice) and it's playing now at BATS.
During the rest day of the Test, Blair got the news that his fiancée Nerissa Love had been killed along with 150 others in the Tangiwai Rail Disaster. When play resumed on Boxing Day nobody expected Blair to play any further part in the game. Without giving too much away, the rest (as they say) is history.
Brugh's play is a moving and beautifully acted treatment of the story. He plays dozens of parts (Blair & Love; cricketers Rabone, Reid, Sutcliffe, etc; Prime Minister Sid Holland) and imbues them all with fine detail and a sweet comic sensibility. He brings, not just the game to life, but the era – a different age.
Last night, thanks to Sir Ron Brierley and a plane ticket from England where he now lives, Bob Blair was present at BATS to see his story told. He'll spend the rest of the week catching up with old comrades and watching a game that still looks like Test Cricket down at the Basin this weekend. It was wonderful to watch this great tribute with the man himself and his family.
Go see The Second Test – it runs at BATS until Saturday 27th March.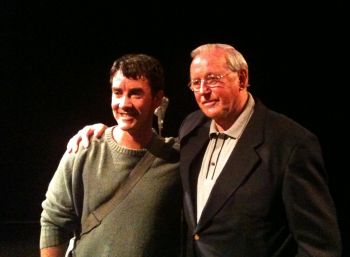 Jonny Brugh and Bob Blair at BATS Theatre after The Second Test.